New York, Connecticut Officials To Investigate Response To Outages Caused By Tropical Storm Isaias
KEY POINTS
Around 1.7 million people remained without power in the northeastern U.S. two days after Tropical Storm Isaias hit
New York Gov. Andrew Cuomo and Connecticut Gov. Ned Lamont ordered investigations into multiple power companies for their apparent failed responses to the widespread power outages
New Jersey Gov. Phil Murphy has not ordered investigations and simply pushed for power to be restored as quickly as possible
The governors of New York and Connecticut ordered state officials to begin investigating the response to Tropical Storm Isaias, which knocked out power to millions of residents and businesses in the northeastern U.S.
As of Thursday morning, over 1.7 million customers remained without power as crews continued working to clean up damage and restore power.
"We know that severe weather is our new reality and the reckless disregard by utility companies to adequately plan for tropical storm Isaias left tens of thousands of customers in the dark, literally and figuratively," New York Gov. Andrew Cuomo said in a press release. "Their performance was unacceptable."
Cuomo's statement is in response to companies like Verizon, Con Edison, Central Hudson Gas & Electric, and New York State Gas & Electric. Cuomo said the New York Department of Public Service will be investigating the companies' apparent failure to respond quickly and adequately.
"New Yorkers deserve answers and they deserve better," Cuomo said.
Connecticut Gov. Ned Lamont appeared to echo Cuomo's statements while speaking outside the headquarters of electric company Eversource in Berlin, Connecticut. Eversource is one of two Connecticut-based companies, along with United Illuminating, that will be investigated by the Public Utilities Regulatory Authority.
"We've got to get this state up and operating again with a working electric system and I want that done overwhelmingly by the end of the week," Lamont said during the press conference. "I'm going to try to hold people accountable as best I can."
Eversource came under harsher scrutiny after one regulator, whose name has not been released, said the company misclassified the projected damage Isaias would cause. The regulator said Eversource's projections had the storm knocking out power to around half the number of people who ended up losing power during Tuesday's storm.
New Jersey Gov. Phil Murphy has maintained a more reserved response, choosing instead to focus on getting powered restored to thousands of residents "as quickly and safely as possible."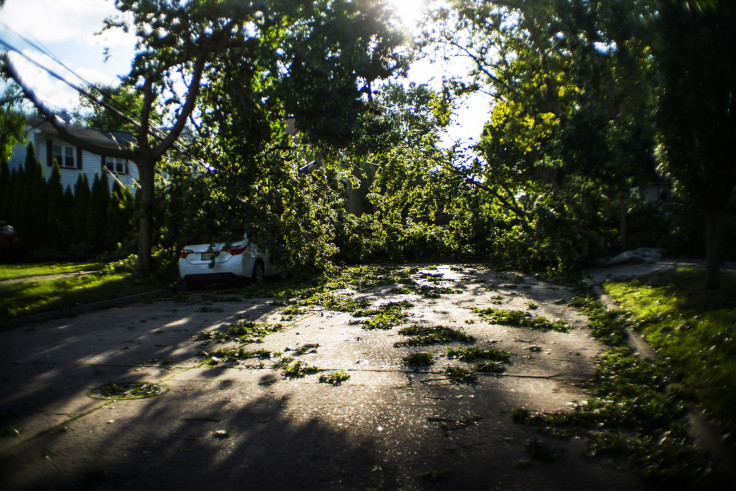 © Copyright IBTimes 2023. All rights reserved.