New York Gov. Cuomo Issues Executive Order To Remove Homeless People From Streets During Freezing Temperatures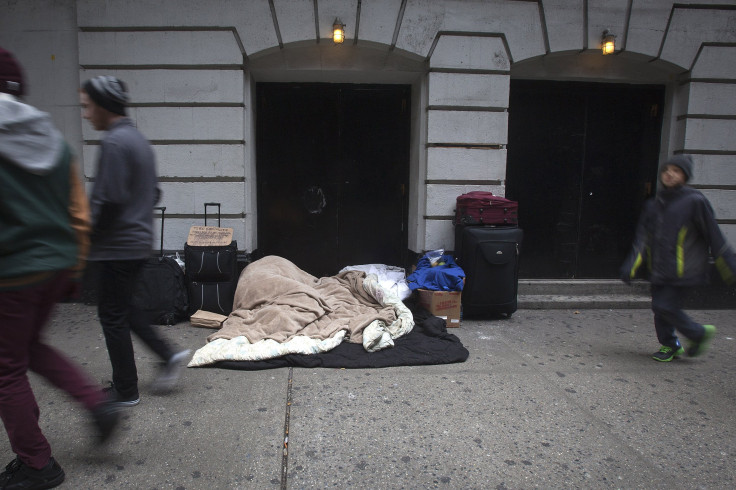 New York Gov. Andrew Cuomo issued an executive order Sunday directing state and local officials to remove homeless people from the streets during freezing temperatures and bring them to shelter. "We're in a period now of the winter inclement weather," Cuomo told the New York Daily News. "It's dangerous for homeless people to be on the streets."
The order is in force when air temperatures are 32 degrees or lower, including National Weather Service calculations for wind chill. It also authorizes a range of public officials — from local social service districts, police forces and state agencies — to forcibly move homeless individuals if necessary.
Cuomo cast the policy as a generous move designed to improve public safety. "It's about love," he told NY1. "It's about compassion. It's about helping one another and basic human decency."
But the order did not sit well with New York City Mayor Bill de Blasio: "We are doing everything we can to protect homeless individuals from freezing weather under the law," the mayor's press secretary Karen Hinton said in a statement. "We support the intent of the executive order, but to forcibly remove all homeless individuals in freezing weather, as the governor has ordered, will require him to pass state law."
Cuomo and de Blasio have feuded for months on a range of issues, including mounting homelessness in New York City. A spokeswoman for the governor recently said the mayor's administration "can't manage the homeless crisis."
Nearly 60,000 homeless people use shelters in the city every day, according to the nonprofit Coalition for the Homeless. That's up from about 53,000 during former Mayor Michael Bloomberg's last month in office.
About 1,300 people die of hypothermia every year in the United States, according to the Centers for Disease Control and Prevention. Those most at risk include people with mental illness, drug abuse problems and socially isolated individuals.
© Copyright IBTimes 2023. All rights reserved.