New York Has The Worst Air Quality In The World As Canada Fires Rage On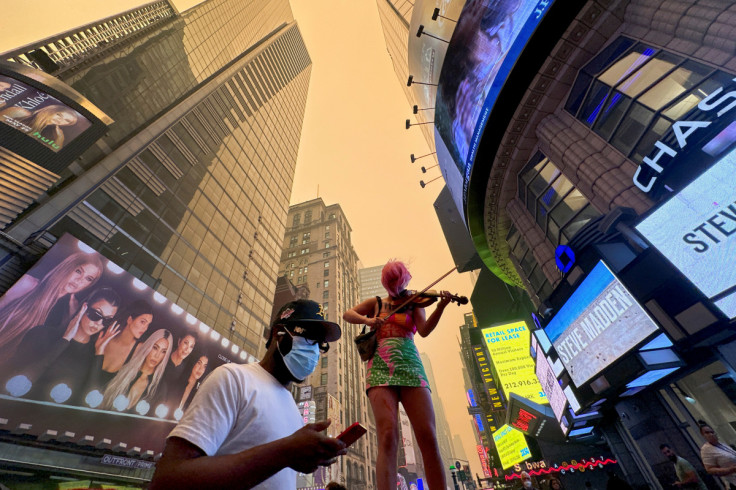 KEY POINTS
An air quality monitoring website said New York City suffers from unhealthy air quality
NYC's health commissioner said there's no uptick in emergency room visits yet
New York authorities warned that the wildfire impact will persist through Thursday
New York City was dubbed the city with the worst air quality in the world Wednesday as the smoke from Canadian wildfires continues to engulf the U.S.' leading financial center.
According to IQAir, a Swiss service monitoring the air quality of major world cities, New York City has an air quality index (AQI) of 256 at the time of writing, which falls within the "very unhealthy" bracket of 201 to 300.
The Big Apple's AQI was 65 points higher than the second city on IQAir's list, Lahore, Pakistan, which had an air index of 191.
This is lower than the AQI of 353 recorded at 3 p.m. Wednesday, which is considered a hazardous pollution level by the Environmental Protection Agency (EPA).
The AQI runs from 0 to 500, with higher numbers indicating greater levels of air pollution and greater health concerns, according to the EPA.
The city also recorded a Particulate Matter (PM2.5) concentration of 214.6 µg/m³, or about 42.9 times the annual air quality guideline value set by the World Health Organization (WHO).
However, Dr. Ashwin Vasan, New York City's health commissioner, said in a briefing Wednesday that they have not yet observed an uptick in emergency room visits due to complications from poor air quality. But he warned that "that could change" in the coming days.
New York City Mayor Eric Adams said the smoky haze from Canadian wildfires was something that "has never impacted us on this scale before."
"From the gloom over Yankee Stadium to the smoky haze obscuring our skyline, we could see it, we could smell it and we felt it. And it was alarming and concerning," Adams said, NBC News reported.
Adams urged all vulnerable New Yorkers, such as the elderly or those who have heart or breathing problems, to stay indoors, limit outdoor time, close windows and doors, and use air purifiers.
While schools in New York City remain open despite the poor air quality, all outside events have already been canceled.
New York Gov. Kathy Hochul also recommended that school districts cancel outdoor activities as thick smog persists.
Hochul described the ongoing wildfire impact as "a health and environmental crisis" while urging residents to take it seriously.
Hochul noted that the normal air quality index in the state is around 50, but the boroughs of Brooklyn and Queens recorded 413 and 407, respectively.
To help affected residents throughout New York State, Hochul announced on Twitter that one million N95 masks would be made available at state facilities.
The governor said 400,000 masks would be distributed in transport stations, state parks and the Javits Center, while 600,000 would be given to local governments.
As the thick haze of yellowish smog covering the Big Apple is projected to continue later this week, the New York State Department of Environmental Conservation has already issued an air quality health advisory that will be extended through Thursday.
"We expect this to be a multiple day event, so we expect that advisory to remain in place for the next few days. Again, it is notoriously difficult to forecast smoke in these types of events," New York Emergency Management Commissioner Zachary Iscol said.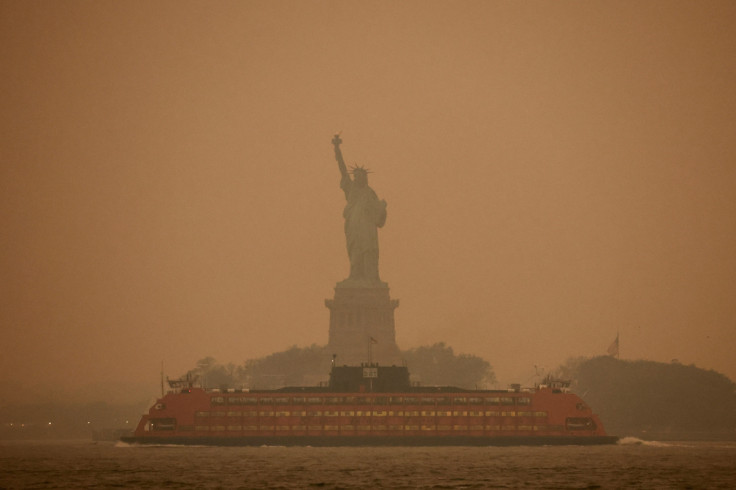 © Copyright IBTimes 2023. All rights reserved.