Parts Of US Affected By Dangerous Air Quality Due To Canada Wildfire Smoke
The wildfires currently raging in Canada have led to millions of people in the eastern United States being given high-risk air quality warnings as the wildfire smoke wafts into the U.S.
Hundreds of wildfires are burning across Canadian provinces like Quebec and Nova Scotia, and the smoke has reached New York City, Connecticut, Pennsylvania and other neighboring states.
The air quality in much of the north-eastern U.S. was deemed "unhealthy" Tuesday, especially for people with respiratory issues, according to NBC News.
New York City's dull, hazy skies put the city at the top of the list of the world's major cities with the worst air quality Tuesday evening, as per air monitoring company IQAir. The city is still currently sitting among the top five most polluted cities on the list.
Detroit also reportedly made it to IQair's top 10 worst locations for air pollution Tuesday afternoon and is still on the list with New York City.
"If you're a New Yorker with heart or breathing issues, be careful when you're outdoors today," New York City Mayor Eric Adams wrote on Twitter. "Smoke from wildfires in Canada is impacting our city's air, so an Air Quality Health Advisory has been issued. Try to limit your outdoor activities today to the absolute necessities."
Pittsburgh was also under an alert Tuesday, as air quality was at unhealthy levels.
Tuesday forecasts also led to warnings about air quality being unhealthy for sensitive groups in cities like Baltimore, Boston, Hartford, Vermont, Providence and Montpelier.
Residents in the Great Lakes region from Cleveland to Buffalo also witnessed hazy conditions and smoke from the wildfires.
Canada saw roughly 414 fires burning Tuesday evening, and the Canadian Interagency Forest Fire Centre categorized 239 of them as "out of control."
The main concern from the wildfire smoke wafting hundreds of miles away is air pollution, which poses grave health risks to residents.
The smoke contains tiny particles that are less than 2.5 micrometers in diameter. When inhaled, these particles could travel deep into lung tissue and enter one's bloodstream, according to AP News.
"These are the particles that are small enough to breathe in and can cause cardiovascular issues," Brett Palm, a scientist at the National Center for Atmospheric Research in Boulder, Colorado, said, as per NBC News.
Residents exposed to this kind of air pollution could experience inflammation and a weakened immune system. Vulnerable groups like the elderly, pregnant women, infants, children and people with existing respiratory conditions must take extra precautions to protect their health.
Experts have advised people to stay indoors as much as possible and to avoid yard work or outdoor exercises during this time. It is also advisable to wear an N95 mask while outdoors.
"If you can see or smell smoke, know that you're being exposed," William Barrett, national senior director of clean air advocacy with the American Lung Association, said, according to CNN. "And it's important that you do everything you can to remain indoors during those high, high pollution episodes, and it's really important to keep an eye on your health or any development of symptoms."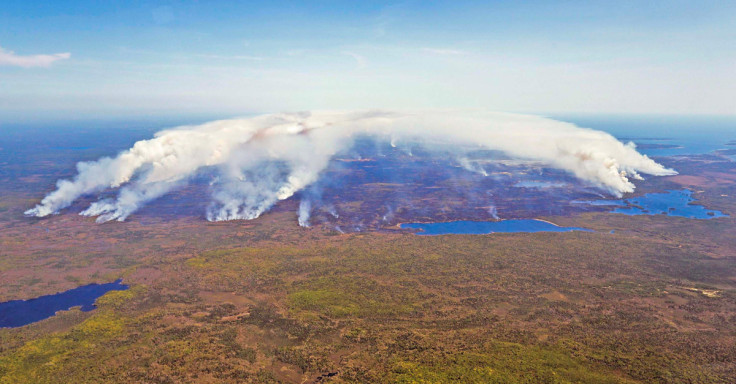 © Copyright IBTimes 2023. All rights reserved.