News Corp. Reports Solid Profits Despite Scandal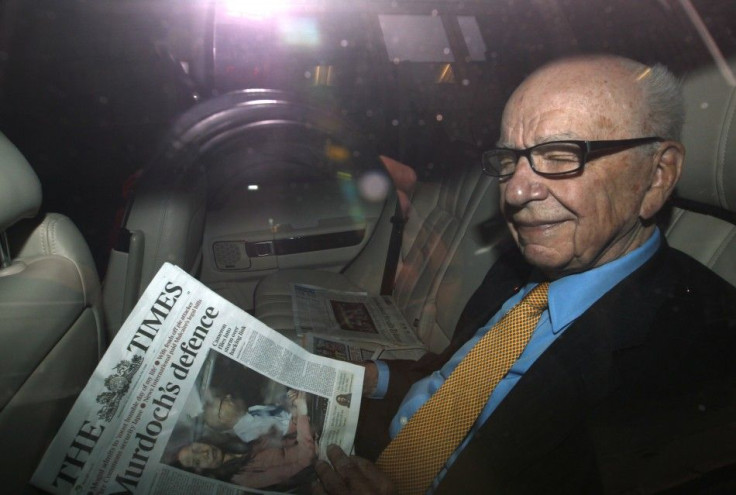 Despite a tumultous several months for News Corporation, the company's financial picture for the first quarter beat analyst estimates.
News Corp. announced Wednesday that earnings were down 4.8 percent to $738 million in the first quarter, which the company attributes to the costs from shutting down the News of the World newspaper as well as to costs related to the withdrawal of its bid for the remaining stake in satellite broadcasting company BSkyB. Excluding those costs, the company reported per-share earnings of 32 cents, compared to 29 cents in the year-ago period.
The company reported $7.96 billion in third quarter revenue, up 7 percent from last year and beating analyst estimates of $7.66 billion. Besides publishing, all segments improved on their earnings from last year.
The strengths in our businesses were wide and deep, Chase Carey, President and Chief Operating Officer said in Wednesday's earning's call.
Operating income for cable network programming totaled $775 million, up from $659 million last year. Chief Financial Officer David DeVoe pointed out in the call that FX has grown to the third most popular cable network between those 18-49 years old, and Fox News has shown 56 straight quarters of operating income growth.
News Corp.'s television unit reported first quarter segment operating income of $133 million, an increase of 27 percent from 2010. Lower political revenue at local television stations and increased marketing costs for the launches of several new TV series' prevented even higher earnings in this segment.
The company's publishing unit brought in operating income of $110 million, down 38 percent from last year. Much of this hit came in the closure of News of the World and significant declines in advertising revenue for Australian newspapers. However, higher advertising and circulation revenues at The Wall Street Journal helped to offset declining revenue in other segments of publishing.
The Wall Street Journal reported Wednesday that it still led the way in terms of newspaper subscriptions. Including digital subscriptions, the Wall Street Journal had an average weekday circulation of 2.1 million. USA Today had 1.8 million and the New York Times had 1.2 million.
While the conference call generally didn't involve discussions over company management and the phone hacking scandal, several reporters steered questions that way. Carey was asked whether the company was considering management changes in light of the controversy, which Carey said wasn't imminent.
At last month's shareholder meeting, the board of directors received substantial criticism from investors, and many shareholders voted against directors. Among other things, some investors said the board didn't adequately address concerns over the News of the World phone hacking scandal. Carey said the company takes the votes seriously and is looking at ways to improve the structure of the board, but declined to go into detail.
News Corp. competitor, Time Warner, reported earnings of $822 million in the most recent quarter, up from $522 million last year. The company said they had a terrific quarter, driven by Harry Potter and The Deathly Hollows, along with higher subscription rates and stronger advertising.
Another competitor, Comcast, earned $908 million in the third quarter, up from $867 million last year but slightly missing Wall Street earnings estimates.
Shares of News Corp. were up 1.26 percent at $16.90 at close.
This story corrects an earlier version that misstated News Corp.'s per-share earnings as 32 percent compared to 29 percent last year, excluding certain costs. Per-share earnings were 32 cents compared to 29 cents in the year-ago period.The article has been edited to reflect the correction. IBTimes regrets the error.
Contact Samuel Weigley at s.weigley@ibtimes.com.
© Copyright IBTimes 2023. All rights reserved.