Nexus 4 Availability Returns To US As Alleged Photos Of White Handsets Leak Online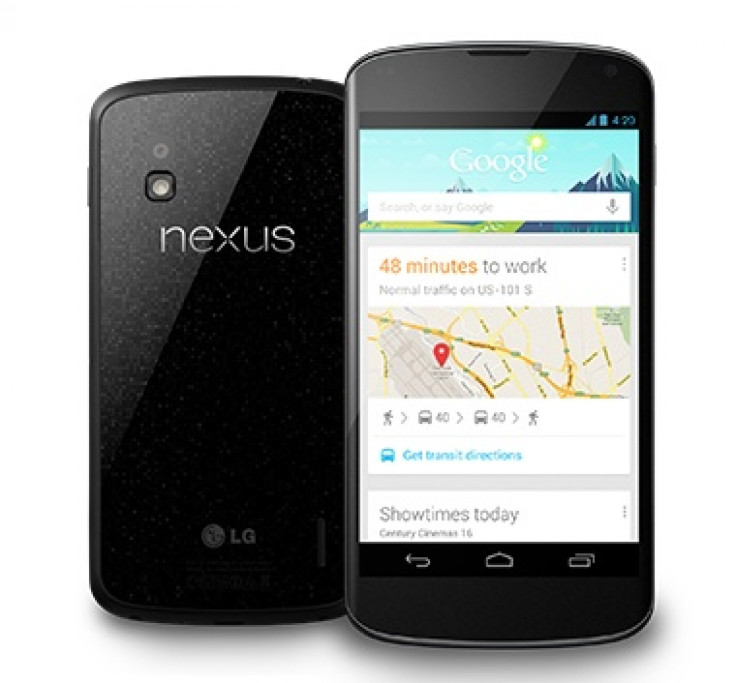 Google CEO Larry Page has acknowledged that ongoing supply issues affecting the Nexus 4 need to be addressed. Now, the search engine giant appears to be preparing to restock its flagship Android-based handset.
Google has started selling its much-sought-after smartphone in Germany, the U.S., France, Spain and the UK again. Earlier this week, both the 8GB and 16GB versions of the Nexus 4 were sold out in the U.S., but now the Google Play Store promises that these devices will ship "soon."
According to Google, Nexus 4 buyers should be seeing their orders shipped within two weeks. As for Germany, Google confirmed to the Verge on Monday that it is now selling the handset in that country, and plans to expand its stock of Nexus 4 devices to other areas in the near future.
As Google begins to restock its various Google Play stores around the globe, the company and one of its manufacturers, LG, may be planning to launch another version of the handset in the near future. On Tuesday, an anonymous tipster sent a photo depicting a white Nexus 4 to PhoneArena, sparking a rumor that another Nexus 4 will launch soon.
If some Nexus 4 fans weren't already convinced, an entire gallery of photos showing a white version of the smartphone allegedly leaked online Wednesday. These images seem to have originated from Vietnamese website Tinhte.vn, and showcase a Nexus 4 with a snowy-white rear casing.
What's more interesting is that Google and LG seem to have chosen a unique design for its white Nexus 4, assuming these photos prove to be accurate. Rather than just launching an all-white version of the device, the reportedly leaked photos showcase a version with a white back plate and black front piece. Like the current version of the Nexus 4, it comes with the same black bezels.
This idea of a white model isn't new for Google fans who have been closely watching the Nexus 4. Rumors of a white Nexus 4 began to gain momentum in November, when PhoneArena found an allegedly leaked listing from UK carrier TalkTalk. The reported leak indicated that the white Nexus 4 would come bundled with a Nexus 7 tablet after signing a two-year contract with TalkTalk.
There's no telling if these recently discovered photos are legitimate, but PhoneArena says that the Exchangeable Information File Format, or EXIF, data on the original image indicated the picture was taken with an LG Optimus G. This could hint that a source from LG or someone closely tied to the company took the image, but it's important to remember that this type of data is easy to fake.
Google officially announced its Nexus 4 alongside the Nexus 10 tablet last year, and the handset sold out immediately upon launch. The 8GB version sells for $299, while the 16GB variant costs $349 unlocked. The Nexus 4 was initially only available through the Google Play store carrier free, but now buyers have the option of purchasing a subsidized unit from T-Mobile for $199 with a two-year contract.
This is surprisingly cheap for a high-end contract-free device, considering unlocked smartphones typically cost upward of $500. The Nexus 4 comes with a 4.7-inch screen sporting a resolution of 1280 x 768 and a 320 ppi. It's powered by a Qualcomm Snapdragon S4 Pro processor, and is equipped with an 8-megapixel front facing camera and Android 4.2 right out of the box. These are fairly decent specs considering the price, but it should be noted that the Nexus 4 is missing 4G LTE.
© Copyright IBTimes 2023. All rights reserved.