Nexus 4 Nearly Sold Out Again In US As Google Restocks UK And German Stores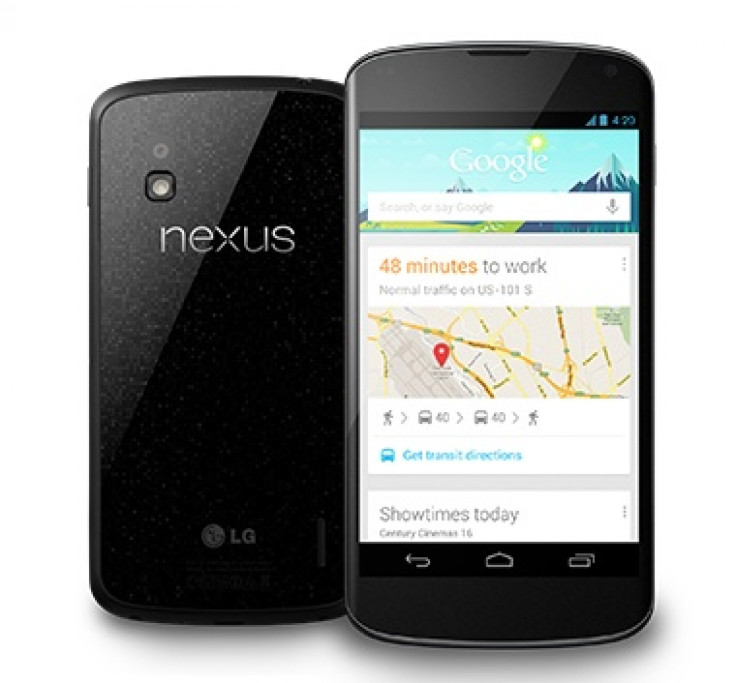 Eager smartphone shoppers in the UK looking to snag a Nexus 4 may be in luck. Google refreshed its stock of Nexus 4 handsets in the UK Google Play Store at 5 p.m. GMT on Tuesday. While UK buyers are enjoying Google's fresh shipment, U.S. Google Play Store patrons could be in trouble again.
The 8GB $299 version of the Nexus 4 is sold out once again in North America. The 16GB edition is still in stock at a price of $349 and should ship in five to six weeks according to the Google Play Store. There has been no word on when US buyers will be seeing the 8GB Nexus 4 again, but Google is likely to offer more stock soon considering the device's popularity.
As for the UK, the handset's price remains the same at £239 for an unlocked SIM-free model. The 8GB version of the smartphone is expected to ship in four to five weeks, while the 16GB edition should ship in two.
The new LG-crafted handset sold out quickly on launch day last month, despite the Google Play Store undergoing various issues. In some cases, especially in the UK where the Nexus 4 sold out in 30 minutes, shoppers would add the smartphone to their cart and it would mysteriously disappear by the time they proceeded to the checkout. In the UK's Google Play Store, the item was listed as "Notify Me" rather than offering an option to purchase the phone.
It appears Google has addressed these bugs before restocking their batch of Nexus 4 handsets, as there have been no reports of the glitchy behavior in the online store thus far. The search engine giant replenished its inventory about one hour ago, and there have been no complaints from buyers thus far.
Shoppers across the pond aren't the only ones gearing up to purchase Nexus 4 smartphones today. Germany will also be getting a refreshed stock of Google's most recent addition to the Nexus family.
The phone ships with Android 4.2 Jelly Bean, boasting the most up-to-date mobile software from Google right out of the box. Google unveiled this operating system update on Nov. 13 alongside the Nexus 4, Nexus 10 and 32GB version of the Nexus 7. The newest Nexus smartphone's basic specs include a 4.7-inch 768 x 1280 multi-touch display, an 8-megapixel camera, 2GB of RAM and a quad-core 1.5 GHz processor.
© Copyright IBTimes 2023. All rights reserved.