NHL News: Habs, Penguins, Blues And Ducks Leading Divisions, Which Team Is Favored To Win 2015 Stanley Cup?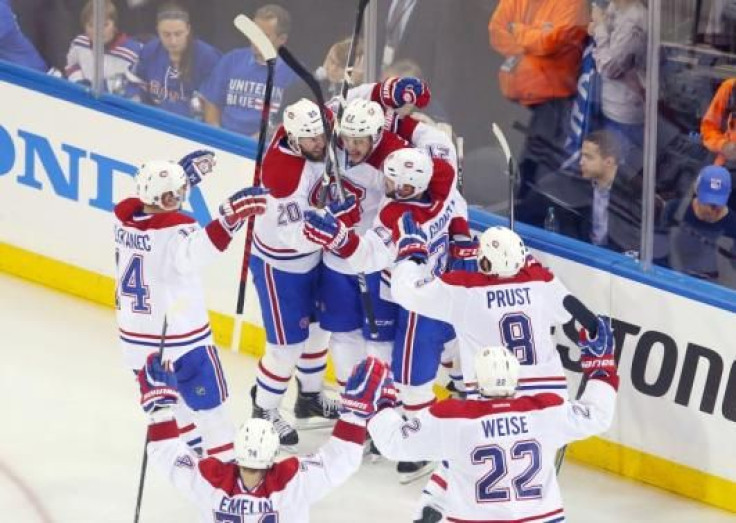 The 2014-2015 NHL season is about five weeks old, and there have been few surprises as parity remains prevalent. No team is running away in the standings, and there might be some sleeping giants.
The Chicago Blackhawks lead all teams as the Stanley Cup favorites at 7/1, according to vegasinsider.com. They are followed by the Pittsburgh Penguins at 8/1, the Boston Bruins at 9/1, and the Los Angeles Kings and Minnesota Wild at 10/1. Of the five teams, only the Penguins lead their division.
Still there are some familiar faces leading their respective divisions. A hot start to the season could also be crucial for teams to gain home-ice advantage in the postseason, as the current parity can switch off during the regular season with injuries, slumps, and trades.
The Montreal Canadiens lead the league in team points while riding a five-game winning streak. Head coach Michel Therrien might be an early candidate to win Coach of the Year honors partially due to the faith he has put into veteran defenseman Tom Gilbert.
Gilbert, 31, signed as a free agent in the offseason after basically replacing Josh Gorges, who moved on to the Buffalo Sabres. The unsung hero has been receiving plenty of ice time while the Habs are at full-strength, during power plays, and while defending power plays, and more importantly, has been a solid complement for P.K. Subban, Andrei Markov, and Alexei Emelin.
"He's fitting in really well," Therrien said of Gilbert in October. "He's starting to build a good chemistry with Andrei Markov. He's responsible defensively and he's part of our top four. He moves the puck really well and we believe he's a good addition to our team."
Therrien has been able to keep the Canadiens in early contention behind just a five-plus goal differential.
But the Penguins have also had a strong season in the East, leading the Metropolitan Division with 25 points in 16 games and dominating opponents with a plus-25 goal differential. Sidney Crosby continues to be among the most effective centers in the league, trailing just Philadelphia Flyers' Jakub Voracek in points. Pittsburgh leads the league with 3.63 goals per game, and the Pens are the only team with four players having scored seven goals or more.
Out in the West, the Anaheim Ducks have the best record in the conference with Frederik Andersen off to a scorching start. The 25-year-old Dane has a 1.87 goal-allowed average, and is third in the NHL in save percentage (.933). Head coach Bruce Boudreau has relied on Andersen with John Gibson expected to be sidelined until mid-December due to a groin injury.
"I have all the faith in the world in Freddie," Boudreau told the Orange County Register. "Sometimes stuff happens. If it's a forward, you'd never notice it. But as a goalie, you notice it."
"I have all the faith in the world in Freddie," Boudreau said. "Sometimes stuff happens. If it's a forward, you'd never notice it. But as a goalie, you notice it."
The St. Louis Blues have been impressive this season as well. The Central Division leaders, who had the third best record in the league in 2013-2014, have outscored opponents by 16 goals, which is third best in the NHL. The Blues haven't received much production from T.J. Oshie thus far, but Vladimir Tarasenko has picked up the slack.
Last week, Tarasenko recorded a "Gordie Howe hat trick": a goal, an assist and a fight. The 22-year-old Russian is also sixth in the league in goals, and receiving high praise from perhaps the NHL's most talented player.
"He's showing right now his skill," Washington Capitals superstar Alex Ovechkin told the St. Louis Post-Dispatch about Tarasenko. "You can see how he scored the goal against the Rangers and everybody is talking about it. He beat probably two defensemen. It's always going to be in his memory and it's a highlight goal. He's a great passer and great skater as well.
"I'm really happy for him because he was kind of a little bit struggling in his career, but right now you can see how much he's growing up. He just make great jump in his career and he's carrying the team right now."
© Copyright IBTimes 2023. All rights reserved.