NHL Playoffs 2013: Rangers, Kings, Red Wings Earn Crucial Wins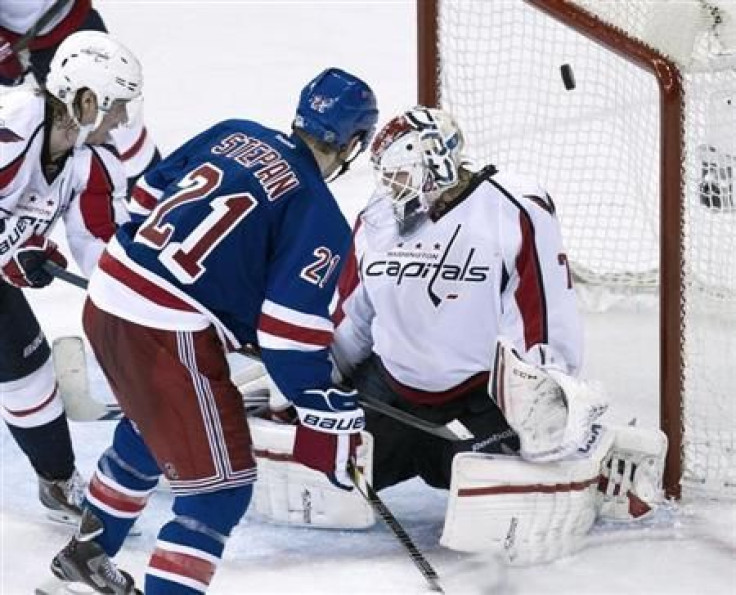 Monday night's NHL playoff games resulted in three home teams cutting into their opponents' series lead.
Rangers 4, Capitals 3
Derek Stepan scored to snap a tie with 6:25 remaining in the third period as hosts New York won Game Three to trim the deficit to 2-1 in the Eastern Conference first-round series against Washington.
Derick Brassard collected a goal and two assists, Brian Boyle had one of each, Arron Asham also scored and Mats Zuccarello set up a pair of tallies.
Henrik Lundqvist turned aside 28 shots for the sixth-seeded Rangers, who will look to even the series at two games apiece when the teams reconvene at Madison Square Garden on Wednesday.
Defenseman Mike Green scored for the second straight contest and Jay Beagle and Nicklas Backstrom also tallied. Braden Holtby finished with 26 saves for the third-seeded Capitals.
- - - -
Bruins 5, Maple Leafs 2
Tuukka Rask made a career-high 45 saves and David Krejci had a goal and two assists as visiting Boston spoiled Toronto's first home playoff game in nine years to take a 2-1 lead in their Eastern Conference first-round series.
Rich Peverley, Nathan Horton and Daniel Paille tallied in the second period and defenseman Adam McQuaid scored his first goal in 35 career playoff contests for the fourth-seeded Bruins.
Defenseman Jake Gardiner and Phil Kessel scored power-play goals for fifth-seeded Toronto, who finished 2-for-5 with the man advantage and outshot the Bruins (47-38) for the first time in the series.
James Reimer stopped 33 shots as the Maple Leafs will try to regroup before hosting Game Four on Wednesday.
- - - -
Red Wings 3, Ducks 2 (OT)
Damien Brunner scored 15:10 into overtime as host Detroit evened its Western Conference first-round series with second-seeded Anaheim at 2-2.
Jonas Hiller's bid to clear a loose puck caromed off backchecking defenseman Bryan Allen before banking off the goaltender's left pad.
Brunner, who was trailing the play, alertly spotted the puck on the doorstep and casually tapped it past Hiller (46 saves) to end the wild affair.
Defenseman Brendan Smith collected a goal and an assist, Pavel Datsyuk also scored and Jimmy Howard finished with 31 saves for the seventh-seeded Red Wings.
Detroit was playing without Justin Abdelkader, who was serving the first contest of a two-game suspension for his brutal hit to the head of Anaheim defenseman Toni Lydman.
Matt Beleskey scored for the second consecutive contest and David Steckel also tallied for the Pacific Division champion Ducks, who will host Game Five on Wednesday.
- - - -
Kings 4, Blues 3
Anze Kopitar and Justin Williams scored 76 seconds apart in the third period to erase a deficit and host Los Angeles held on to even its Western Conference first-round series against fourth-seeded St. Louis at 2-2.
Jeff Carter and Dustin Penner also tallied while Jonathan Quick made 19 saves for the fifth-seeded Kings as the series shifts back to St Louis for Game Five on Wednesday.
After T.J. Oshie scored his second goal of the game in the second period to give the Blues a 3-2 lead, the reigning Stanley Cup champion Kings dominated the third as they were 20 minutes away from a 3-1 series deficit.
Captain David Backes netted a goal and Vladimir Sobotka notched two assists for St Louis. Elliott turned aside 25 shots.
(Reuters)
© Copyright IBTimes 2023. All rights reserved.