Nokia 808 PureView: Will 41-megapixel Camera Phone Herald End of Point-and-Shoot Digital Cameras?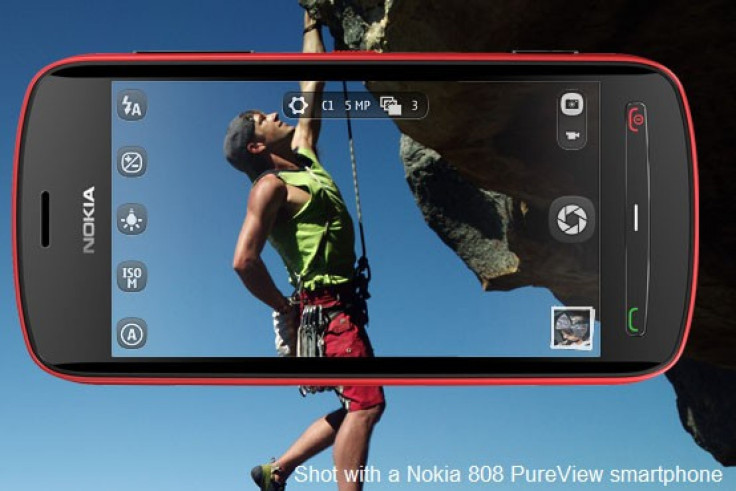 While most high-end smartphones feature 5-megapixel or 8-megapixel cameras, Nokia's new 808 PureView, unveiled at the Mobile World Congress (MWC) 2012, packs a whopping 41-megapixel camera. With its PureView imaging technology, Nokia aims to raise the bar in smartphone photography far beyond what is currently considered a good camera phone.
The 808 PureView phone, set to roll out in May, pioneers the Finnish company's PureView imaging technology and will sport a 41-megapixel high-resolution camera, one of the first digital zoom features that is actually usable, exclusive Carl Zeiss optics and Nokia-developed algorithms, as well as CD-like recording capabilities.
Oversampling Eliminates Visual Noise
The 808 PureView uses oversampling to combine up to seven pixels into one 'pure' pixel, eliminating the visual noise found on other mobile phone cameras. On top of that, you can zoom in up to 3X without losing any of the detail in your shot - and there's no artificially created pixels in your picture, either, said Nokia.
Each pixel in a finished 5-megapixel image on the 808 PureView gets data from eight different pixel locations on the sensor, thus allowing a value of red, green and blue to be determined without additional intrapolation. Meanwhile, combining data from more pixel locations effectively averages out noise caused by some pixels returning random or inaccurate values, resulting in more accurate color and reduced noise overall. Moreover, sharper images can be achieved by oversampling, as it reduces the softening effects of the anti-aliasing filter, the Bayer filter and diffraction of the tiny lens.
Furthermore, the smartphone's superior low-light performance, combined with the ability to save in compact file sizes, makes it possible for anyone to capture seemingly professional images in any conditions and easily share them via email, MMS or on social networks. Nokia's 808 PureView also includes full HD 1080-pixel video recording and playback, with 4X lossless zoom, and Nokia Rich Recording, which enables audio recording at CD-like levels of quality. Additionally, the smartphone features exclusive Dolby Headphone technology and Dolby Digital Plus for 5.1 channel surround sound playback.
New Industry Standard
Nokia PureView imaging technology sets a new industry standard by whatever measure you use, said Jo Harlow, Nokia Smart Devices executive vice president. People will inevitably focus on the 41-megapixel sensor, but the real quantum leap is how the pixels are used to deliver breath-taking image quality at any resolution and the freedom it provides to choose the story you want to tell.
Drawbacks
On the other hand, the 808 PureView is quite a standard Nokia smartphone aside from the impressive camera, which means it sports mid-range specs, no quad-core processor and perhaps the biggest drawback - Symbian OS. Lastly, the phone only has 512 MB of RAM, a 1.3 GHz single-core processor, and its 4-inch screen has a surprisingly low resolution of 640 x 360 pixels.
(reported by Alexandra Burlacu, edited by Surojit Chatterjee)
MUST READ - Nokia Lumia 900 vs Samsung Galaxy Note: AT&T Superphone Shootout
MUST READ - New iPad 3 Facing Smart Cover Problem: Why?
MUST READ - iPhone 5: iOS 5.1 Code Strings Assure 4G LTE, What Other Features Can We Expect?
© Copyright IBTimes 2023. All rights reserved.