NORAD Santa Tracker's Record Holiday: Best Google Videos Tracking Santa [VIDEO]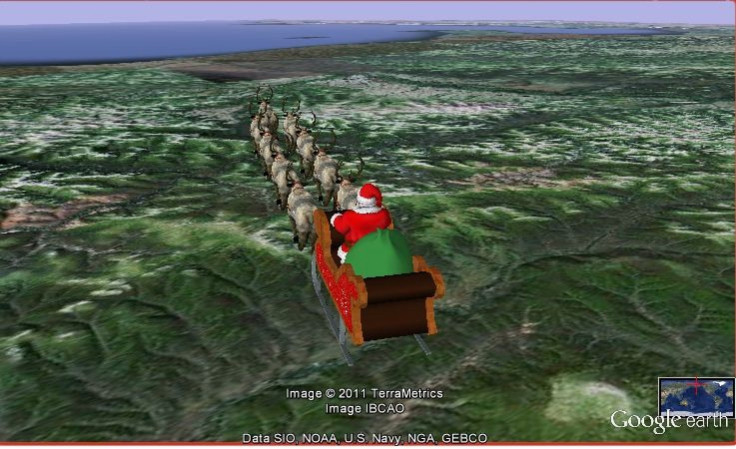 Santa Claus (and the North American Aerospace Defense Command) broke records this Christmas, with Santa tracking volunteers answering roughly 100,000 telephone calls about Santa's whereabouts via the NORAD Santa Tracker and more than 700,000 downloads of the program's new smartphone app.
Last year, Santa tracking volunteers recorded around 80,000 phone calls from kids (and some parents) asking after the Christmas figure.
As Americans settle in for the winter holiday, the NORAD reports that somewhere between 90,000 and 102,000 calls have been clocked so far, with official saying that social media sites like Facebook and Twitter likely helped push the Santa tracker into new territory.
Beyond the 2011 social media push , there's also the new smartphone app that allows users to track Santa from their phones. The app includes the Elf Toss, a Christmas game similar to Angry Birds.
'The phones are ringing like crazy.'
Canadian Navy Lt. Al Blondin has noted the upped Facebook and Twitter figures (999.000 likes on the NORAD page and almost 90,000 followers as opposed to last year's 716,000 and 53,000).
But Blondin also feels that, beyond the Internet, people have been spreading the Santa tracking spirit simply by sharing the news with family and friends.
I think what happens is that every year the ones that participated [tell others], Blondin said. There's word of mouth.
Whatever the reason, NORAD Santa Trackers reported that 2011 began earlier than ever, with kids calling in at 4 a.m. to find what where Santa was. The phones are ringing like crazy, Lt. Cmdr. Bill Lewis said on Christmas Eve, according to the Atlanta Journal-Constitution.
How NORAD Santa Tracker Got Started
The North American Aerospace Defense Command has been tracking Santa for children around the world since 1955, when a Colorado Springs newspaper ad set up a Santa hotline whose typo had children talking to NORAD's predecessor the Continental Aerospace Defense Command instead.
Since its birth in the 1950s, Santa tracking has gotten a lot more interactive, and a lot more high-tech.
As Santa Claus traveled around the world (his first stop in the U.S. was Atlanta, Ga. at 11:02 p.m. EST), adults and kids across the globe took to Google Maps and Google Earth to track Santa's progress themselves, watching videos of him at the North Pole, Rome, Italy, and everywhere from Melbourne, Australia to Mount Everest, Nepal.
Google Earth: Best NORAD Santa Tracker Videos of 2011
The NORAD Santa Site may no longer be showing where Santa is right now (NORAD's site is no longer tracking him), but you can still watch some of the best videos from Google Earth right here, from his start at the North Pole and his trips through landmarks like the Taj Mahal and Great Wall of China to his night trip to Hilo, Hawaii and a quick run through Rome, Italy.
Beginning at the North Pole, Christmas 2011
NORAD Tracks Santa 2011 at Mount Everest, Nepal
NORAD Tracks Santa 2011 at North Pacific Islands
NORAD Santa Tracker in Dublin, Ireland
NORAD Tracks Santa 2011 at Great Wall of China
NORAD Santa Tracker in Rome, Italy
NORAD Tracks Santa 2011 at the Taj Mahal in India
NORAD Santa Tracker in New York City
NORAD Tracks Santa 2011 in Hilo, Hawaii
© Copyright IBTimes 2023. All rights reserved.