North Korea Nuclear Threats Don't Deter Foreign Tour Groups, But Is Their Presence Ethical?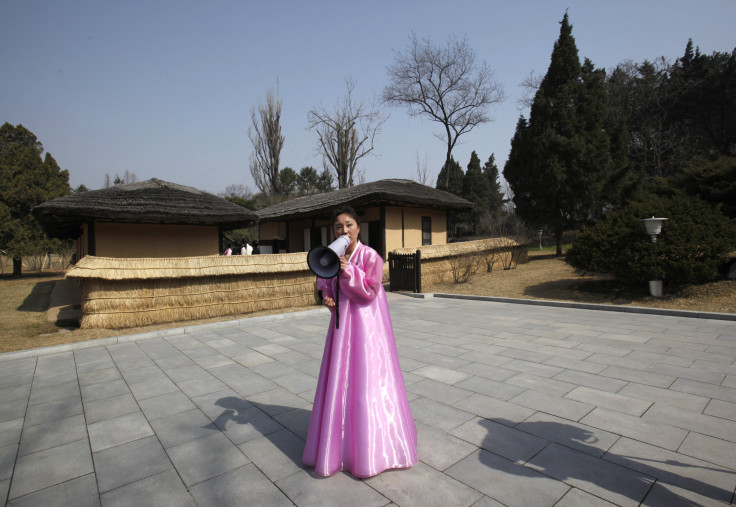 The North Korean army may be threatening the United States with nuclear war, but that hasn't stopped several American tourists from entering the hermetic nation on packaged tours.
Christopher White, travel director of China-based Young Pioneer Tours, said eight Americans are currently touring North Korea.
"We just touched base with our group and called our contacts in the DPRK to make sure everything was okay," White said. "I personally just got back from Rason [the economic development zone bordering Russia and China] when all of this kicked off. We knew nothing of it. Everything was fine and dandy."
White said that, while there had been some cancelations, Young Pioneer Tours will send 100 people into North Korea this month and a total of 1,000 people this year, twice as much as in 2012. He said what's happening right now "is a big smokestack" and that the organization would not cancel a trip unless they were told they were not allowed to go in.
"We've been going in and out for five years and several events have happened during that time, but it hasn't affected the way we're treated or how we operate."
Nick Bonner, who has taken tour groups into North Korea with Koryo Tours since 1989, said his company also has eight Americans in the country right now. He said Koryo Tours would not cancel trips unless it received specific advice to do so from the UK, Swedish or German Embassy in North Korea.
"We have been running tours almost every month to North Korea since 1993 and in these 20 years have experienced similar situations and probably have the best on the ground experience possible," Bonner said. "We also work with North Korean partners who have a responsible and professional attitude and they would be the first to cancel tourist visas to the country if they thought there would be any difficulties."
Bonner said members of Koryo Tours met with British Embassy officials in Pyongyang last week to discuss the situation, but noted, "there is no change in guides' or public attitude."
"They often have rhetoric against U.S. and South Korea, and whilst it is more heightened, it is aimed at government not at tourists who bother to travel to Korea," Bonner noted.
Safety concerns aside, some critics question the ethics of visiting North Korea in the first place.
"We are acutely aware of the moral issues raised on promoting tourism to North Korea," Bonner said. "However, we believe the work we do encourages dialog and exchanges which have led to a productive way of working with North Koreans."
Koryo Tours has produced three documentaries on North Korea, brought in numerous school groups and conducted several sports exchanges that Bonner believes expose North Koreans to foreigners not just in Pyongyang, but around the country.
Others see things differently.
"Nice as it would be to think that normal human-to-human interaction between foreign visitors and North Koreans could make a difference, that's just not the case," said Melanie Kirkpatrick, senior fellow at the Hudson Institute in Washington, D.C., and author of Escape From North Korea: The Untold Story of Asia's Underground Railroad. "North Korea is not a normal nation and tourists have little or no access to ordinary people."
Kirkpatrick said foreigners interested in speaking with ordinary North Koreans would have better luck doing so in northeast China, where many North Koreans flee and can speak more openly about the country.
"The regime uses visits by foreigners for propaganda purposes to demonstrate to the North Korean people how people around the world venerate the Kims," Kirkpatrick added. "To give one example: A stopover on just about every tour is that massive statue to Kim il-Sung, the eternal president of North Korea. Foreign visitors are often photographed there -- images that are then described to the North Korean people as foreigners paying homage to him."
Moreover, Kirkpatrick noted that tourism is one of the regime's few legitimate sources of foreign currency.
"North Korea is the world's most repressive nation. Foreign visitors are helping to prop up the despicable regime that brutalizes the North Korean people. They are doing so with their money and their presence," she said. "We know that it doesn't use its foreign currency to buy food for its starving people or medicine for the sick. We know it uses it for military purposes and to pay off its insiders."
White of Young Pioneer Tours declined to speculate on where the money goes. Bonner of Koryo Tours, meanwhile, insinuated that most of the money goes toward training local guides, drivers, hotel staff and restaurant workers.
Despite lengthy travel warnings from most Western nations, state media outlet Korea Central News Agency recently ran a series of reports claiming that North Korea was experiencing and unprecedented surge in visitor applications. Last year, approximately 4,000 Westerners and 20,000 Chinese visited the nation. Most Chinese came in for trips 24 hours or less, while most Westerners came in with groups like Young Pioneer Tours or Koryo Tours.
In response to a perceived increase in interest, the state airline, Air Koryo, added two additional flights per week between Beijing and Pyongyang this month. The government also expanded its railway timetable and added faster trains between the Chinese border and the North Korean capital.
FOR FREE to continue reading
✔️ Unlock the full content of International Business Times UK for free
offer available for a limited time only
✔️ Easily manage your Newsletters subscriptions and save your favourite articles
✔️ No payment method required
Already have an account?
Log in
© Copyright IBTimes 2023. All rights reserved.