Novavax COVID Vaccine 90% Effective: How It Compares To Pfizer, Moderna, J&J Shots
A fourth COVID vaccine is gearing up for Food and Drug Administration authorization as biotech firm Novavax (NVAX) announced on Monday that its formula was shown to be 90.4% effective against the virus.
The efficacy was proven in three clinical trials of nearly 30,000 participants in the U.S. and Mexico. The Pfizer vaccine is up to 95% effective against COVID-19, while the Moderna COVID vaccine has shown to be up to 90% effective against the virus. The Johnson & Johnson vaccine has up to 66% efficacy against COVID.
Like the Pfizer and Moderna COVID vaccine, the Novavax vaccine is a two-dose shot to reach full protection against the virus. The Johnson & Johnson vaccine is provided in one dose for full effectiveness.
According to Novavax, the vaccine was also found to 93% effective against some circulating variants of COVID-19 and 100% effective against preventing moderate and severe disease.
In the clinical trials of the vaccine, the shot was well-tolerated with common side effects, including fatigue, headache, and muscle pain, lasting less than two days. Pain at the injection site was also reported after both doses, lasting no more than seven days.
"Today, Novavax is one step closer to addressing the critical and persistent global public health need for additional COVID-19 vaccines," Stanley C. Erck , president and CEO at Novavax , said in a statement. "These clinical results reinforce that NVX-CoV2373 is extremely effective and offers complete protection against both moderate and severe COVID-19 infection.
"Novavax continues to work with a sense of urgency to complete our regulatory submissions and deliver this vaccine, built on a well understood and proven platform, to a world that is still in great need of vaccines," he added.
Novavax said it plans to file for authorization of the vaccine with the FDA in the third quarter. The company plans to produce 100 million doses per month by the end of the third quarter and 150 million doses per month by the end of the fourth quarter of 2021.
Adolescent studies of the vaccine in those ages 12 to less than 18 continue with nearly 2,250 participants, Novavax said. The Pfizer COVID shot has been authorized for use in children aged 12 and older. The Moderna and Johnson & Johnson vaccines are currently approved for use in individuals ages 18 and older.
To date, over 143.9 million Americans have been fully vaccinated with against COVID-19, accounting for 43.4% of the nation's population, according to data from the Centers for Disease Control and Prevention.
Shares of Novavax were trading at $224.73 as of premarket hours on Monday, up $15.05, or 7.18%.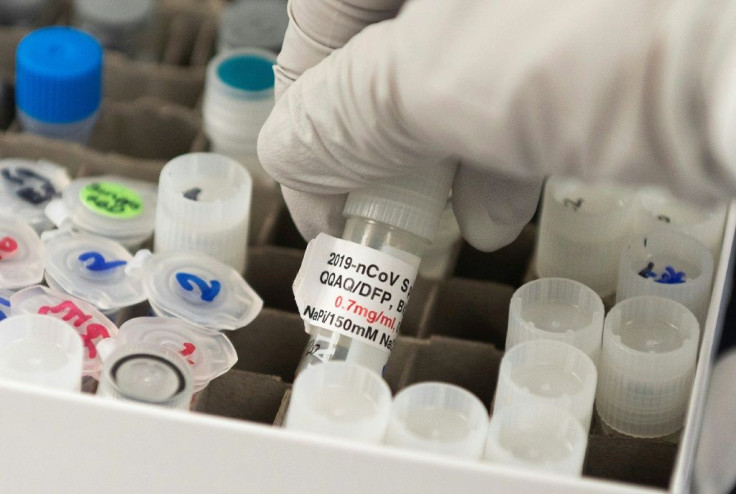 © Copyright IBTimes 2023. All rights reserved.