NYC Hispanic Day Parade Guide 2016: Start Time, Road Closures, Alicia Machado And Other Important Tips For Columbus Day Weekend Event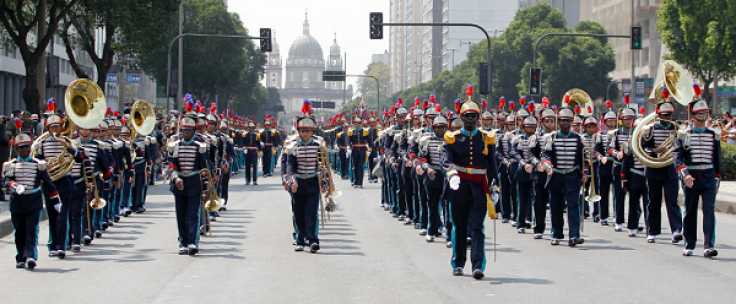 National Hispanic Heritage month is still going strong in the United States, and this weekend thousands will come together to celebrate Hispanic Day at the 52nd annual Hispanic Day Parade Sunday in New York City. The parade – which commemorates the diverse population of Hispanics and Latinos living in New York toward the end of National Hispanic Heritage Month each year – will be flooded with more than 4,000 marchers, dancers and colorful floats representing several Spanish-speaking countries in South and Central America, Mexico, Dominican Republic, Puerto Rico, Cuba and Spain.
Venezuelan-born Alicia Machado, who won the 1996 Miss Universe pageant, will serve as grand marshal at the parade. About 2.5 million Hispanic and Latino people live in New York City.
Spain will also get some special recognition at the Hispanic Day Parade as this year's festival marks the 400th anniversary of the death of Miguel de Cervantes, the author of the first-ever modern novel "Don Quixote," according to AM New York. In honor of Cervantes' death, marchers will carry Andy Warhol-esque paintings of the Spanish writer during the parade. The paintings were created by Spanish artist Curro Leyton.
The historical parade – which started back in 1985 – marks the close of National Hispanic Heritage Month, which runs from Sept. 15 to Oct. 15. The parade takes place each year on the Sunday before Columbus Day. The Columbus Day parade takes place the very next day, following the same route as the Hispanic Day Parade in Manhattan.
Check out important information about the historical parade below.
Start Time: Sunday, Oct. 9, noon to 5 p.m. EDT
Where: The parade kicks off on 43rd street between 5th and Madison Avenue in New York City and will run up to East 69th street, according to the city. The parade will form between 43rd and 47th streets along 5th Avenue.
Road Closures: Travelers should prepare for road closures throughout the entire route of the parade along 5th Avenue between 43rd and East 69th Streets. Closures will be extended between East 69th Street and 72nd Street along Madison Avenue. 63rd and 64th Street will also be closed between 5th Avenue and Park Avenue.
© Copyright IBTimes 2023. All rights reserved.