NYC Mayor Eric Adams' Comment About Kansas Having 'No Brand' Condemned
KEY POINTS
Kansas residents and politicians condemned Eric Adams' offhanded remark
"Modern Family" star Eric Stonestree also defended his home country
NYC's population plunged by thousands in the first year of COVID-19 pandemic
New York City's mayor Eric Adams is receiving flak for his comments on the midwestern state of Kansas. Adams boasted about New York being a "brand" unlike Kansas, during a press briefing Tuesday.
He drew ire for the offhanded remark from both politicians and residents alike. Kansas-born and raised "Modern Family" star Eric Stonestreet also sent out a tweet in defense of his home country.
"I'm from Kansas and have been to New York many times. I find beauty in both places and with the people from both places. Too bad NYC's elected leader can't say the same thing. #brand" he tweeted.
Kansas Tourism's Twitter page wrote, "Thanks for unleashing Kansas Twitter upon the world! Truth is, we have a brand, and it's inspired by our state motto, 'Ad astra per aspera,' or 'To the stars through difficulties.' Kansans live and breathe this every day, so thanks for the opportunity to share it. #ToTheStarsKS"
Adams was talking about the devastation in Puerto Rico and the Dominican Republic caused by the hurricane, and the humanitarian trips made to these countries when he called New York a brand.
"We have a brand. New York has a brand. And when people see it, it means something. When we go there, it's not... Kansas doesn't have a brand," he said, pausing for a laugh right after. "When you go there, okay, you're from Kansas. No. You know what? But New York has a brand," he continued.
Kansas governor Laura Kelly issued a statement defending her state against Adams' comments. "Kansas is the best state in America and I welcome anyone to come enjoy the natural beauty of the rolling Flint Hills, our farms and ranches that feed the world, business and family-friendly policies, and our rich history of fighting for freedom," Kelly, the Democratic incumbent," she said, reported KansasCity.com.
"After all, it is no coincidence that we've attracted over $14 billion in new business investments to Kansas, including Panasonic, along with the FIFA World Cup," she added.
Her Republican challenger, state Attorney General Derek Schmidt tweeted, "Mayor who? Kansas isn't New York and we sure as heck don't want to be. I'll stay focused here in God's Country on making life more affordable and keeping communities safe, neither of which can be said about New York."
An analysis of data from the U.S. Census Bureau shows NYC population plunged by 4% in the first year of the pandemic. More than 336,000 people left the city for less dense areas and neighboring states.
Kansas residents came to their state's rescue as well. "I've lived in NYC and I'd much rather be in Kansas," read a tweet.
"What is he talking about now...Kansas is leading the way with women's votes! I'd say that's a huge BRAND!" tweeted another.
"New York's brand consists of an increase of 54% in robberies, a 56% increase in grand larceny incidents, and a 22% increase in rape reports this year alone. I am sure those in Kansas do not mind being dismissed as boring by Eric Adams, the slumlord of NYC," wrote an irate Twitter user.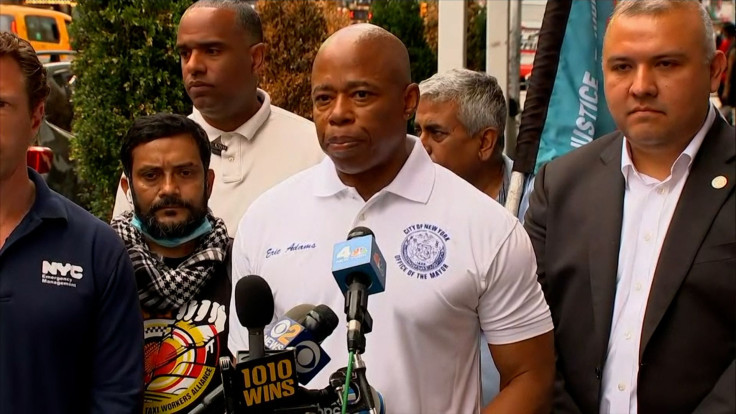 © Copyright IBTimes 2023. All rights reserved.