NYC Subway Update: Subways To Be '90%' Operational By Sunday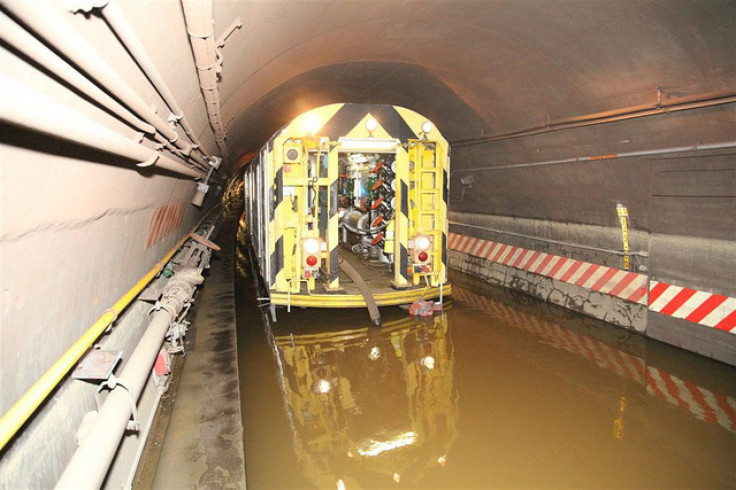 Five days after Superstorm Sandy struck New York, the regional Metropolitan Transit Authority is still working hard to restore service across the four boroughs served by the New York City Transit subway system.
Although some subway trains have been running since Wednesday, New York Mayor Michael R. Bloomberg said at a press conference Saturday that expects the system to be "90 percent" operational Sunday.
"Almost all MTA subway service, around 80 percent of the system, is now restored," Bloomberg said. "It should be up to 90 percent by tomorrow."
On Saturday, the MTA restored service on the 4, 5, and 6 lines: The former two run from the Bronx to Manhattan to Brooklyn, while the latter runs between the Bronx and Manhattan. The 7 line, which runs from Queens to Manhattan, is also fully operational as of Saturday, Gothamist reported.
The D, F, J, and M lines are expected to be in service by Saturday night.
The MTA plans to have the 2 and 3 lines in service sometime Sunday, bringing riders from the northern tip of Manhattan down into Brooklyn. The A train, follows a similar path, directionally at least, is expected to be operational again by Monday morning.
However, many northern Brooklyn residents could still be without subway access on the G and L lines for as long as a week.
Although the G train, running crosstown between Brooklyn and Queens, does not travel underneath the East River, service has been suspended on that line, as well.
Flooding by Newton Creek -- separates Brooklyn's Greenpoint from Queens' Long Island City -- has rendered parts of the line unusable, the New York Observer reported. Newton Creek is known for its rampant pollution and human sewage treatment, meaning that water from the creek could be especially hazardous to clean out of the G line's tunnel.
The L train, which runs from northern Brooklyn to Manhattan, is still flooded with water from the East River. Water has filled its tunnel "wall to wall, ceiling to floor," Gothamist said, and it could take another week to siphon out.
"The answer on the L is that it's impossible to turn trains around easily mid-route for a Brooklyn shuttle service," an MTA representative told the Observer via email. "Very difficult to set up because of the track layout. They may try now that other lines are getting better service, but that's just a discussion at this point. As for the G, enough of it is parallel to other lines -- plus the naturally low ridership."
© Copyright IBTimes 2023. All rights reserved.