NYU Wasserman Center Bends On Unpaid Internship Guidelines, But Is It Bending Far Enough?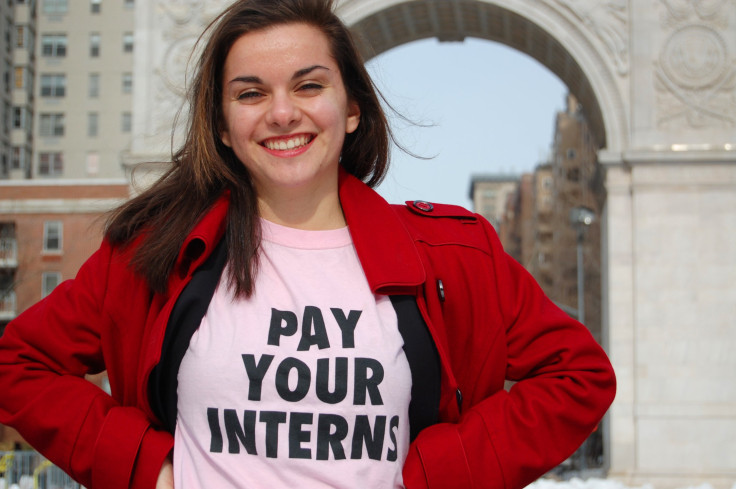 Following months of pressure from students concerned about the proliferation of unpaid internships on its CareerNet portal, New York University's Wasserman Center for Career Development has taken new steps to ensure that the opportunities posted to its jobs board comply with wage and labor laws.
Employers posting to the site are now required to "sign off" on job postings and assure that posted internships meet guidelines laid out by both NYU and the U.S. Department of Labor. Under the Wage and Hour Division's criteria, unpaid internships in the for-profit sector are legal only in stringently outlined educational settings. To promote greater awareness of these criteria among NYU students, the Wasserman Center has also added additional links to information about related labor laws and illegitimate job postings.
But do the changes go far enough? Christina Isnardi, an NYU student and vocal critic of unpaid internships, says not quite. Last spring, Isnardi led a campaign calling on the university to stop listing illegal unpaid internships to CareerNet. Her petition on CoWorker.org has been signed by more than 1,500 people, many of whom are students and even NYU faculty members. A junior who studies film production and political science, Isnardi says unpaid internships are exploitative and unfair, open only to students with the economic means to work for free. She is among a growing number of young voices calling attention to the issue, which entered the national consciousness in 2011 when a wage lawsuit was filed against Fox Searchlight by a former intern who said he worked grueling hours in a noneducational setting for no pay.
In a phone interview, Isnardi said colleges and universities are complicit in the problem when they turn a blind eye to internships posted to their job sites that blatantly violate the Fair Labor Standards Act. "It's just exploitation in plain sight," she said. "I think that universities -- and people in general -- think that unpaid internships are just something you have to do now. People are so desensitized to it."
NYU, at least, is starting to take notice. After circulating her petition, Isnardi said she met with school officials multiple times over the summer to discuss possible changes to CareerNet that could better serve students. Chief among those changes was placing a greater emphasis on finding and posting paid internship opportunities. "I said to them, 'Look, your site has only 447 paid internships on there and you have well over 1,000 unpaid internships. That's not even representative of how many paid versus unpaid internships there are in the economy."
Officials were resistant. For one thing, paid internship postings are harder to come by, simply because employers that offer such opportunities -- which are highly sought-after -- have less of a need to advertise on school job boards. Isnardi said school officials were also concerned that students in fields such as arts and entertainment, where paid internships are thought to be rare, might lose out on opportunities if unpaid internships were ruled out altogether. She countered that even in so-called glamour industries, paid internships are plentiful, though hunting them down takes a little extra effort. "It's just the process of finding those opportunities that are out there," she said. "There's hundreds and hundreds in New York City alone."
Isnardi said she was contacted last month by a Wasserman representative, who let her know that new changes to CareerNet had been implemented. She said, by her count, the career site now has more than eight times the number of paid internships and job positions it had before -- from below 500 during the spring 2013 semester to more than 4,000 when she last checked. That count is incorrect, however. According to a screenshot provided by Isnardi, it's based on search of paid opportunities in general. James Devitt, NYU's deputy director of media relations, said the number currently is closer to 1,100. He said the number fluctuates like "gas prices" and has not changed dramatically over the last few years. (Isnardi herself later emailed to clarify that her count included both paid job positions and paid internships.)
Devitt acknowledged in an emailed statement that the university has made a number of changes in recent months, but he declined to say whether they were made in direct response to Isnardi's petition. He stressed that the Wasserman Center has always included internship guidelines but that the changes will strengthen the language and heighten their visibility.
Isnardi called the recent changes to CareerNet a victory but said she thinks more needs to be done. "I would like to see it go further," she said. "I would want them to just get rid of [for-profit unpaid internships], like I wrote in the petition."
As for whether CareerNet will stop posting unpaid internships altogether, Devitt said don't count on it:
"[U]npaid internships are and have long been common in certain sectors of and eliminating these internships from our listings would have two significant disadvantages: 1) It would put our students at a significant disadvantage as they enter the job market in these fields, and 2) It would eliminate our career services office's ability to try to ensure the quality of these internships."
Isnardi said she is otherwise happy with the progress she's made, but she isn't giving up. She said she's meeting with Wasserman officials this week and will continue to pressure the school to stop listing unpaid internships. In the meantime, she hopes news of her campaign will spread to other colleges and universities where she believes the voices of a disenfranchised labor force can -- quite literally -- no longer afford to be silent. "Once enough students speak up, things will change," she said. "The next step is to get other students knowing about the success at NYU so that they can do the same thing at their universities."
(Correction: this story has been updated to include information from NYU regarding the number of paid internships currently on its jobs board: 1,155, according to a spokesperson. Isnardi's count of 4,000-plus included both paid job opportunities and paid internships.)
Got a news tip? Email me. Follow me on Twitter @christopherzara.
© Copyright IBTimes 2022. All rights reserved.
FOLLOW MORE IBT NEWS ON THE BELOW CHANNELS