Oaksterdam Raid: Marijuana Advocates Vow to Reopen Princeton of Pot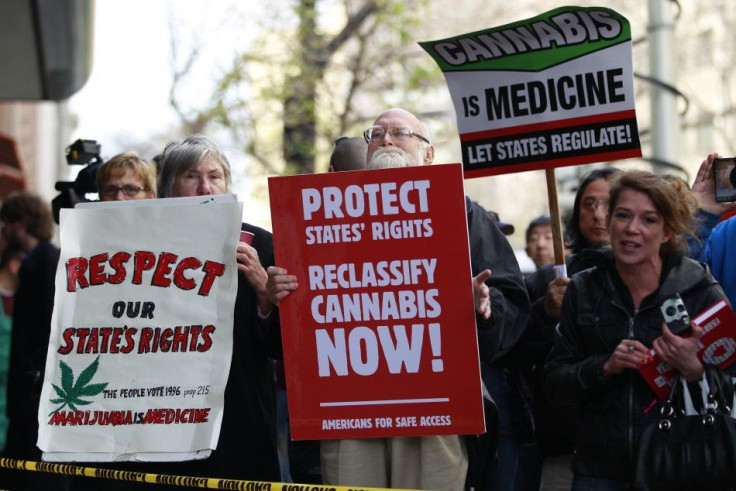 SAN FRANCISCO (Reuters) - Medical marijuana advocates on Tuesday vowed to reopen a San Francisco-area college devoted to cannabis cultivation and known as the Princeton of Pot a day after federal agents shut down the school in a raid.
Hundreds of protesters rallied in front of San Francisco's City Hall, some on crutches and in wheelchairs and smoking hand-rolled joints. The demonstrators carried signs that said, Cannabis is medicine; let states regulate and chanting Feds off my meds.
Monday's raid on Oaksterdam University, which offers courses on growing and dispensing of marijuana, turned the Oakland-based school into the latest flashpoint between federal law enforcement and medical cannabis advocates in states where pot has been decriminalized for medicinal purposes.
Federal authorities also searched the home of veteran medical marijuana activist and Oaksterdam founder Richard Lee, as well as a nearby medical marijuana dispensary he runs.
Lee, confined to a wheelchair by a spinal injury, was a leading proponent behind a failed California ballot initiative in 2010 that would have legalized possession and cultivation of small amounts of marijuana in the state for recreational use.
In a wheelchair, he's a threat, Wayne Justmann, an adviser for medical pot supply shops, said facetiously as he spoke to Reuters at the rally. He's a guy who's helped so many people.
Rather than targeting Lee, Justmann added, Go after that guy who killed seven and injured three. He was referring to the former student of a private, Christian college who killed seven people and wounded three others in a shooting rampage on Monday.
Lee himself said he worried that he might be prosecuted.
They can indict me any day, he said, recounting how he was awakened by federal agents armed with assault rifles appearing at his Oakland apartment with a search warrant. They can arrest me any day. Agents briefly detained but did not arrest Lee.
The school was closed after agents searched it, but it will reopen Wednesday, Lee's lawyer, Laurence Jeffrey Lichter said.
Although marijuana remains classified as an illegal narcotic under federal law, 16 states and the District of Columbia have enacted some sort of legalized medical-cannabis statutes, according to the Drug Policy Alliance.
In those states, including California, the U.S. government has sought in recent months to shut down storefront dispensaries and greenhouses deemed by federal investigators to be drug-trafficking fronts, as well as those that are located close to schools and parks.
The Obama administration has said it would not single out individual patients who possess or grow their own marijuana in states with medical pot statutes. But federal prosecutors have warned they will continue to go after operations that support for-profit, illegal drug dealing under the guise of medical pot.
Federal action has led to dozens of medical marijuana dispensaries being shut down in California, but so far no one has been charged with criminal activity in connection with the crackdown, Lichter said.
Oaksterdam, widely referred to as the Harvard of Hemp and the Princeton of Pot, opened in 2007 and bills itself as the first cannabis college in the United States.
Two universities were struck yesterday, said Dale Sky Jones, executive director of Oaksterdam, referring to Monday's raid on her school at the same time a gunman opened fire at the nearby Oikos University. Federal resources are wasted on failed policy while our cities beg for help with gun violence.
(The story was corrected in paragraphs 6 and 8 to clarify that Justmann and Lee comments were made to Reuters, not other protesters)
(Editing by Mary Slosson, Steve Gorman and Lisa Shumaker)
© Copyright Thomson Reuters 2023. All rights reserved.
FOLLOW MORE IBT NEWS ON THE BELOW CHANNELS