Obama Applauds American Leadership In Paris Climate Agreement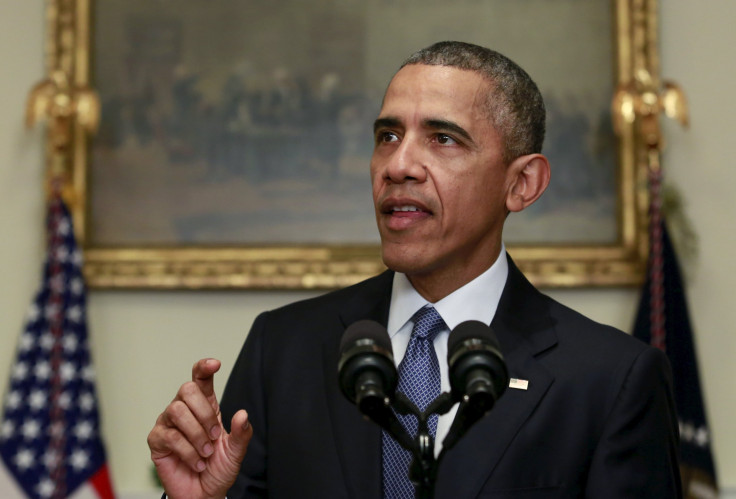 U.S. President Barack Obama lauded American leadership Saturday as 195 countries agreed to keep the global temperature increase below 2 degrees Celsius by 2050 at the conclusion of climate-change talks held outside Paris. In remarks delivered at the White House, the president said the so-called Paris Agreement was a "tribute to American leadership" and that it would help save the "one planet we have all got."
"A few hours ago we succeeded, we came together around the strong agreement the world needed," Obama said.
The president described the U.S. as a leader in the fight against climate change, with its investments in solar and wind energy creating a "steady stream of middle-class jobs." He argued the country has driven down carbon pollution while establishing private-sector jobs.
"No nation, not even one as powerful as ours, can solve this on their own," Obama said.
He acknowledged the agreement was not "perfect" and stressed that countries could not be complacent. He said the Paris Agreement has built a strong framework to fight climate change and to secure more ambitious targets over time. The White House described the Paris Agreement designed to curb global emissions of greenhouse gases as the "most ambitious" in history, stressing that a system of transparency will help ensure countries live up to their obligations.
"A critical component of the agreement, the transparency framework agreed to by parties ensures that all countries are on a level playing field with the United States with flexibility for those developing countries with less capacity," the White House said in a statement.
U.S. Secretary of State John Kerry said American funding of grant-based public projects centered on climate adaptation in developing countries would be doubled by 2020. The U.S. last year spent more than $400 million on such investments in areas ranging from health to infrastructure.
"We've taken a critical step forward, and there is no question but that what we do next, how we implement our targets, how we build this agreement, how we build it out for each of our nations and how we strengthen it in the time ahead -- that is what will determine whether we're actually able to address one of the most complex challenges humankind has ever faced," Kerry said in Paris Saturday.
U.S. presidential candidates immediately weighed in on the climate-change plan.
On the Democratic side, U.S. Sen. Bernie Sanders, I-Vt., said the agreement "goes nowhere near far enough." Although the deal calls for capping the global temperature rise at 2 degrees Celsius by 2050, low-lying island countries had pushed for a target of 1.5 degrees Celsius amid fears that the pact might have arrived too late.
On the Republican side, billionaire businessman Donald Trump had criticized Obama's visit to Paris during the talks this month. "While the world is in turmoil and falling apart in so many different ways, especially with [the Islamic State group], our president is worried about global warming," said Trump, who has rejected scientific evidence about climate change in the past.
Other GOP presidential candidates such as Sen. Marco Rubio of Florida, former Gov. Jeb Bush of the same state and Gov. Chris Christie of New Jersey also have criticized the amount of attention Obama has given climate change. The president hit back at such Republican candidates this month, saying his successor will need to "think this [climate change] is really important."
As part of the new agreement, beginning in 2020 all countries will have to report their climate-change targets every five years and submit those targets at least nine months in advance to allow for discussions before they are finalized. The goal is to have every subsequent target increase from earlier ones.
The White House underscored the U.S. commitment to the deal by highlighting 117 mayors across the country who have signed the Compact of Mayors pledge, which features public reporting and standardized measurement of emissions, as well as the 154 U.S. companies that signed the American Business Act on Climate pledge, which promises reductions in emissions. Meanwhile, more than 300 American colleges and universities signed a pledge supporting the recent round of climate-change talks.
© Copyright IBTimes 2022. All rights reserved.
FOLLOW MORE IBT NEWS ON THE BELOW CHANNELS