Obama To Designate 3 New National Monuments Covering 1.8 Million Acres Of California Desert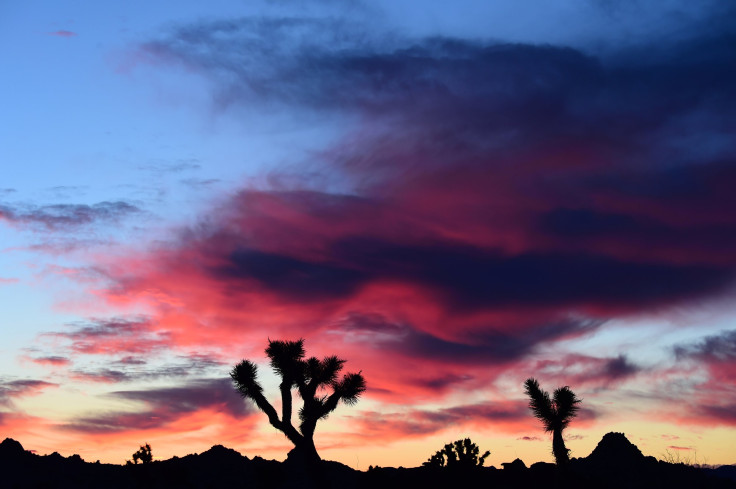 U.S. President Barack Obama will designate three new national monuments in the California desert Friday, expanding federal protection to 1.8 million acres of landscapes in the region.
The designation, requested by U.S. Senator Dianne Feinstein, will cover land that wasn't included in the 1994 California Desert Protection Act, and connect three existing sites — Death Valley, Joshua Tree national parks and the Mojave National Preserve — to create one of the world' largest desert preserves.
The new designations are a symbol of the "the administration's strong commitment to aggressive action to protect the environment for future generations," the White House reportedly said, in a statement.
The new national monuments — Castle Mountains, Mojave Trails and Sand to Snow — will be designated under the 1906 Antiquities Act, which gives the president the power to create national monuments on federal land to protect "objects of historic and scientific interest."
The designations, which do not include funding, were supported by several groups, including the nonprofit National Parks Conservation Association (NPCA), the Sierra Club, and the Center for Biological Diversity and the Mojave Desert Land Trust.
"California's deserts include some of the most spectacular scenery in the nation, and serve as a refuge for some of the most rare and endangered plants and animals," Ileene Anderson, a senior scientist at the Center for Biological Diversity, said, in a statement released Friday. "The Mojave Trails, Sand to Snow and Castle Mountains national monuments offer enduring protections for these places and would allow future generations of all species to enjoy them."
The Mojave Trails National Monument encompasses 1.6 million acres of federal along a 105-mile stretch of old Route 66 between Ludlow and Needles. It protects wildlife corridors linking Joshua Tree National Park and the Mojave National Preserve.
The Sand to Snow National Monument includes about 154,000 acres of land between Joshua Tree National Park and the San Bernardino National Forest, and the Castle Mountains National Monument conserves a 20,000-acre region in the northern part of the Mojave National Preserve.
The designations would cover areas that include volcanic spires, dunes, ribbons of wetlands, grasslands and petroglyphs, and are home to species such as the bighorn sheep, fringe-toed lizards and over 250 types of birds.
"Our more than one million members, supporters, and partners commend President Obama, his administration, and longtime desert champion Senator Feinstein for this powerful, landscape-level conservation action," NPCA President and CEO Theresa Pierno said, in a statement. "These national monuments will play a vital role in the long-term sustainability and health of the region, and the protection of our beautiful, diverse deserts."
© Copyright IBTimes 2022. All rights reserved.
FOLLOW MORE IBT NEWS ON THE BELOW CHANNELS