Obama Lends Support To New Federal, State Regulatory Front Against Payday Loan Traps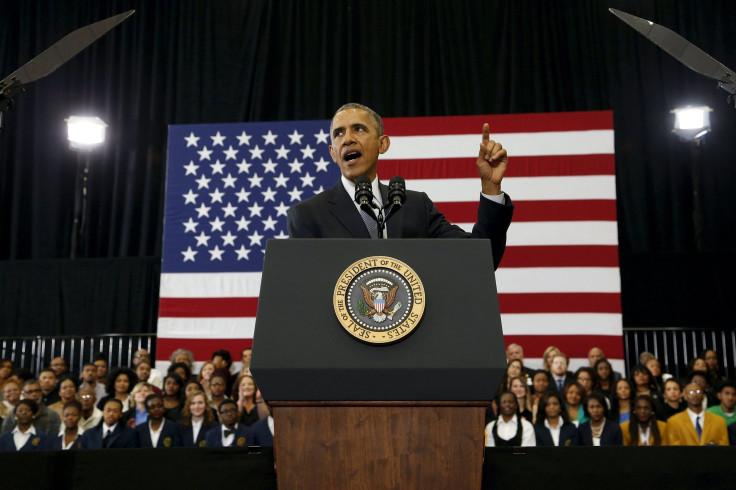 The White House is backing a new push by federal and state regulators to rein in lenders that offer high-interest payday loans and auto title loans to consumers. On Thursday, hours after the Consumer Financial Protection Bureau officially unveiled a blueprint to target "debt traps," President Barack Obama voiced his support for rules that would require such loans to be affordable during a speech in Birmingham, Alabama.
"The idea is pretty common sense: If you lend out money, you should first make sure that the borrower can afford to pay it back," Obama said, per USA Today.
"As Americans, we believe there's nothing wrong with making a profit," Obama said. "But if you're making that profit by trapping hard-working Americans in a vicious cycle of debt, then you need to find a new way of doing business."
Obama's speech broadly defended the federal consumer protection agency, created in the wake of the 2008 financial meltdown, against attempts by Republicans in Congress to alter the agency's sources of automatic funding. Obama also said he would veto any bills that would pare down the Dodd-Frank Wall Street Reform and Consumer Protection Act.
The president journeyed to Alabama earlier this month for the 50th anniversary of "Bloody Sunday" in Selma, and his return to the state weeks later hit a symbolic note in terms of the CFPB's own short history: The agency held its first-ever field hearing in Birmingham in January 2012, the subject of which was payday lending.
The payday and car title lending industries have been criticized for adding excessive fees and interest rates that can exceed 300 percent to small-dollar loans borrowed by the working poor. Since borrowers typically give lenders access to their checking accounts, or sign over the titles to their cars, the mounting costs can be hard to escape.
On Thursday, the proposal that CFPB director Richard Cordray shared at a packed auditorium in Richmond, Virginia, would make lenders put strict safeguards in place, geared toward creating manageable payments for customers.
The agency can't regulate interest rates. However, under the CFPB's outline, lenders would have to choose between verifying a borrower's income and financial obligations upfront, or else providing customers with affordable exits from loans. The proposal also would limit lenders' ability to reach into consumers' bank accounts without permission.
State regulators said new efforts already are underway to tackle predatory loans. Virginia Attorney General Mark Herring said he was "ashamed" to read recently that his state is considered "the predatory lending capital of the East Coast." His office will reorganize its entire consumer protection division to focus on high-cost loans.
"This is one of my top priorities this year: a revitalized consumer protection operation that helps keep financially vulnerable Virginians out of the debt trap," said Herring, who took office in 2014.
State banking official Joe Face, Virginia's Commissioner of Financial Institutions, said his office is engaged in a multistate supervisory effort to peer into the workings of payday lending businesses. States began coordinating that effort with the CFPB last year, Face said, and under the initiative "coordinated payday lending examinations are, and will be, conducted in 2015."
Any federal regulations stemming from the proposal are still a ways off. The CFPB first has to hold talks with business leaders who would be affected by the rules. Subsequent agency proposals would then be open to a public comment period before any regulations are set in stone.
Industry representatives on hand at Thursday's hearing said they were open to working with the CFPB, but already skeptical of the proposal that they said was overly prescriptive, and out of touch with borrowers' demands for credit.
"It will be extremely difficult to mesh these guidelines with state laws, if not impossible," said D. Lynn DeVault, who sits on the board of Community Financial Services of America, a payday industry trade group.
She added that the rules contained in the CFPB's proposal "demonstrate no understanding of consumers' credit needs."
© Copyright IBTimes 2023. All rights reserved.
FOLLOW MORE IBT NEWS ON THE BELOW CHANNELS