Obama South by Southwest Live Stream: Watch President Speak At Austin Festival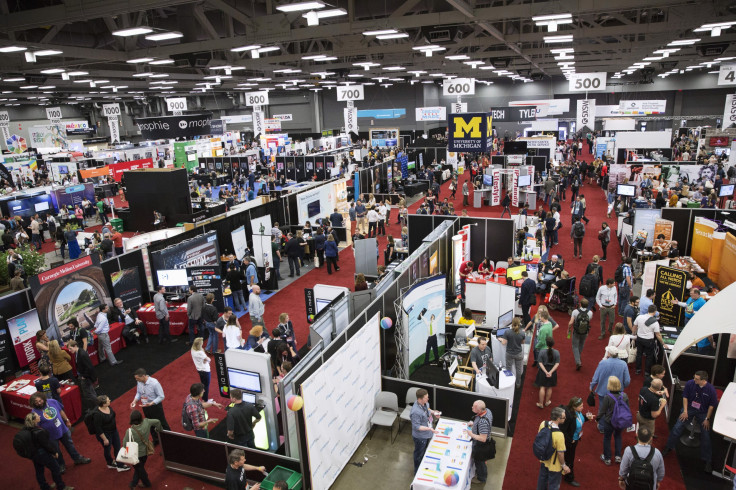 President Barack Obama is encouraging tech leaders to use technology tackle major challenges such as increasing political participation and fighting climate change. Obama is to be a keynote speaker Friday at the annual South by Southwest music, tech and film gathering in Austin, Texas.
Obama is attending the five-day event known as spring break for nerds instead of former first lady Nancy Reagan's funeral at the Reagan Presidential Library in Simi Valley, California. (Nor have previous presidents attended first ladies' funerals). It's the first time in the festival's 30-year history that a sitting president will address the crowd. Obama is expected to speak at 2:30 p.m. local time and a live stream of the speech can be found here.
Obama is expected to sit down with Evan Smith, CEO and editor-in-chief of the Texas Tribune, for a session on civic engagement in the 21st century. This year, festival sponsors include Esurance, Mazda, Monster Energy, Capital One, Bud Light, McDonald's and the Austin Chronicle.
"It's an interesting place to see what types of things are bubbling up in technology," Ryan Hoover, founder of Product Hunt, a service for people to rate new tech products, told the Associated Press. "It has this mixture or collision of technology and entertainment. When different types of minds and people are connecting together, new ideas come out."
As Obama speaks, gun rights groups plan to organize outside the festival. Open Carry Texas plans to hand out literature that will highlight how "gun owners are no different than anyone else" while confronting the "stigma associated with firearms in public," according to its Facebook event post.
"The fact that President Obama is going to be in Austin at the same time changes nothing. We won't be deterred or barred from exercising our liberties," Open Carry Texas wrote on Facebook. "In fact, if Obama sees us, we look forward to him approaching us, shaking our hands, and thanking us for exercising our rights in a safe and legal manner in the way he is tasked with supporting and defending."
Reagan, 94, died Saturday of congestive heart failure. She will be buried next to her husband, former President Ronald Reagan. In a statement after her death, the Obamas said they were "grateful" for Nancy Reagan's life.
"Nancy Reagan once wrote that nothing could prepare you for living in the White House. She was right, of course. But we had a head start, because we were fortunate to benefit from her proud example, and her warm and generous advice," they said.
© Copyright IBTimes 2022. All rights reserved.
FOLLOW MORE IBT NEWS ON THE BELOW CHANNELS