Obamas' $8.1 Million Worth New House In Kalorama: Who Are His New Neighbors?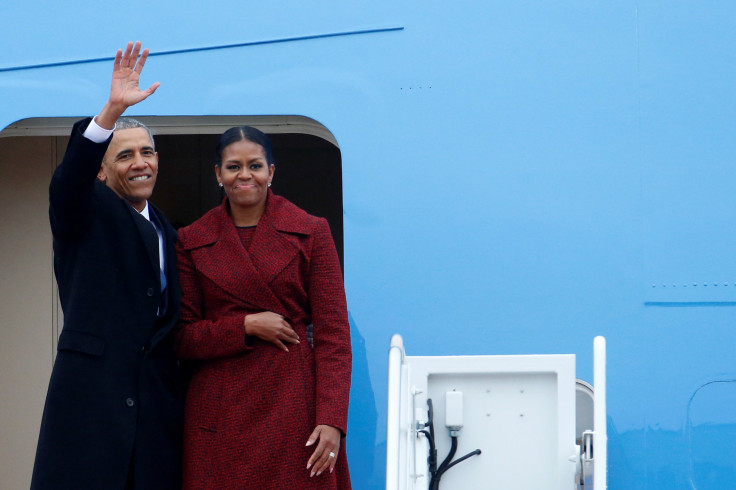 Just about four months after moving into their rented house in the Washington, D.C. neighborhood of Kalorama for their post-White House stint, the Obamas purchased the property Wednesday for $8.1 million, according to property records.
The new Obama home is in the neighborhood that houses the likes of President Donald Trump's daughter Ivanka Trump with husband Jared Kushner, as well as the Secretary of State Rex W. Tillerson, reports said.
While the Obamas own a Georgian-style house in the Hyde Park neighborhood on the South Side of Chicago, they reportedly said they intend to stay in D.C. as their younger daughter, Sasha, is still in her high school at Sidwell Friends.
After leaving the White House in January, the Obamas moved into the rental home owned by former President Bill Clinton's press secretary Joe Lockhart and his wife, Giovanna Gray Lockhart. It is a 200-square-foot home built in 1921 and renovated in 2011, according to the Washington Post.
Read: After Leaving White House, Michelle Obama Goes To SoulCycle, Barack Goes For Dinner With Pals
Located at Belmont Road, the Tudor-style home of the Obamas is a few blocks away from Ivanka and Kushner's residence on Tracy Place. Amazon founder and owner of the Washington Post, Jeff Bezos, is also renovating a former textile museum on S Street, which is few minutes away from the Obamas' house.
Tillerson bought a $5.6 million home, somewhere between Bezos and Trumps' house, in the neighborhood earlier this year, the New York Times reported.
Residents of the Kalorama neighborhood say the area has always been in the limelight due to high-profile people living there. "Famous people have always lived here," said Penn Lupovich, 81, a retired doctor, who stays on Tracy Palace, across the street from Ivanka's house.
The Obamas' new neighborhood has mansions, townhouses, apartment buildings and embassies northwest of Dupont Circle. Although, it looks like any other neighborhood, residents say buying a property there requires a minimum of several million dollars, the Post reported.
Records show Lockhart, who sold the home to Homefront Holdings LLC, which is controlled by the Obamas, for $8.1 million, had paid nearly $5.3 million for it in 2014.
The house was built by F. Moran McConihe, a real estate developer who played an important role in expanding the Kalorama neighborhood and also served in the General Services Administration under President Dwight D. Eisenhower.
At the time, the house was bought by Capt. Charles Hamilton Maddox, who was a pioneer in the use of radio on naval ships and aircraft. Maddox's daughter, Muriel, was an actress and a writer, who acted alongside Marlon Brando in the movie "The Men" and also penned several romance novels, reports said.
Among the historical figures to have resided in the Kalorama neighborhood are prominent politicians, including Woodrow Wilson, William Howard Taft, Franklin D. Roosevelt, Warren G. Harding, Herbert Hoover and Senator Edward M. Kennedy.
© Copyright IBTimes 2022. All rights reserved.
FOLLOW MORE IBT NEWS ON THE BELOW CHANNELS