What Are The Obamas Doing Now? Michelle Goes To SoulCycle, Barack Goes For Dinner With Pals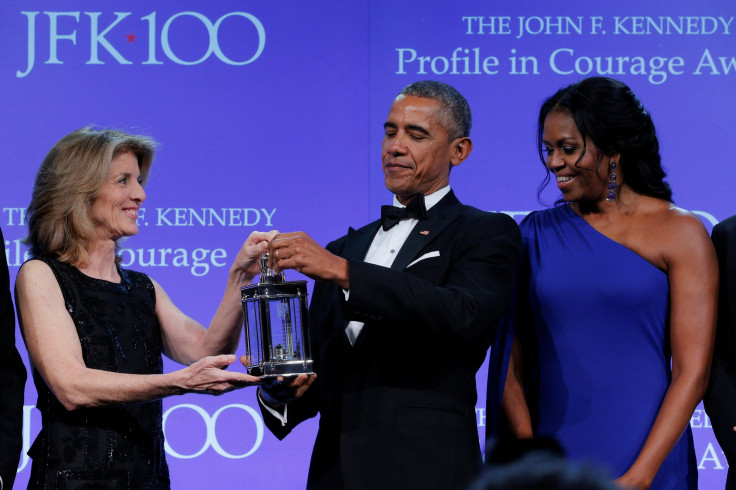 After leaving the White House in January, former President Barack Obama and first lady Michelle Obama are keeping a low profile. However, the couple is indulging in activities that they may have missed doing while in the White House. Michelle has been going for SoulCycle classes with the public and Barack has been donning his leather jackets, which he could not wear as president because he thought it was not "presidential enough," People reported citing Barack's chief of staff.
"Imagine putting on a suit and tie almost every day for eight years. I think he enjoys not having to do that," Barack's chief of staff, Anita Breckenridge, told People in this week's issue.
Breckenridge also said how the former president enjoys the freedom and makes last-minute dinner plans with friends.
Barack is reveling in the post-presidency life. At the first cocktail party at Barack's new office in February, he appeared relaxed, eating and drinking with his old administration officials such as Joe Biden and former chief of staff Denis McDonough, the Washington Post reported. "He is enjoying a lower profile where he can relax, reflect and enjoy his family and friends," said his former senior adviser Valerie Jarrett.
Michelle reportedly has started going for SoulCycle class every Sunday. Earlier, the first lady would take these classes in private, but now she enjoys it with the public.
Michelle also eats her lunch along with her staff and watches funny viral videos in her new work space in D.C.'s West End. Her office is painted in the same color as that of White House's East Wing, said Breckenridge.
In February, Barack had surprised Broadway theater-goers by attending a performance of "The Price" — an Arthur Miller classic — along with daughter, Malia. The father-daughter duo had even headed backstage after the play, which was a revival of the original piece, and met with the cast, including Mark Ruffalo, Danny DeVito, Tony Shalhoub and Jessica Hecht.
The Obamas have undertaken several vacations since leaving the White House. After President Donald Trump's inauguration Jan. 20, the Obamas left Washington D.C. for a holiday in the British Virgin Islands were they were photographed spending time with business mogul Richard Branson, reports said.
Branson had described hosting the Obamas for their post-presidency holiday in the British Virgin Islands as "an honor". He wrote: "I was feeling very pleased with myself, only to look over and see Barack go 100 meters on his kite board! I had to doff my cap to him and celebrate his victory."
They have visited Palm Springs, Hawaii and Barack had also gone to Oahu, Hawaii where he golfed with friends and dined at Buzz's Lanikai steakhouse in Kailua, according to reports.
Then Barack jetted off in a Gulfstream G550 to Tetiaroa, a South Pacific island once owned by Marlon Brando. He stayed there for over a month, writing his White House memoir, the Post reported, citing a person familiar with Barack's plans.
In April, Barack and Michelle were reported to be on a vacation on a yacht in French Polynesia, joined by friends Oprah Winfrey, Tom Hanks and Bruce Springsteen.
© Copyright IBTimes 2023. All rights reserved.