The Occupation Heard 'Round the World'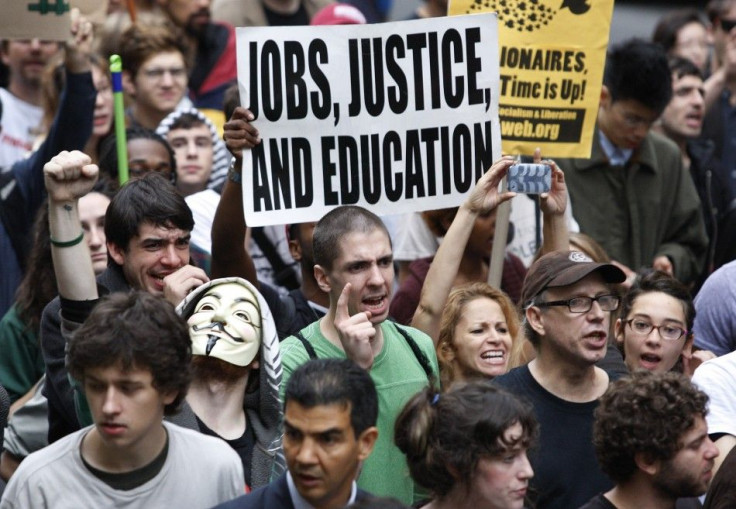 Occupy Wall Street, now a month old, has outgrown its home base in Zuccotti Park, spread to Washington Square Park and been picked up in cities across the country, with Occupy Boston still going strong and groups organizing in Atlanta, Los Angeles, Philadelphia and Chicago.
And now it's spreading around the world.
Occupy the London Stock Exchange promises to send thousands of people to St Paul's Cathedral and Paternoster Square on Saturday. Occupy LSX, as it's known, has already won support with popular activist group UK Uncut, and the protestors are bringing tents and sleeping bags in preparation for the long-haul.
The words 'corporate greed' ring through the speeches and banners of protests across the globe. After huge bail-outs and in the face of unemployment, privatisation [sic] and austerity, we still see profits for the rich on the increase. But we are the 99 percent and... our voice unites across gender and race, across borders and continents, as we call for equality and justice for all, Occupy LSX says on its Web page.
There are also Occupys in Hong Kong, perhaps the most capitalist and business-centric city in Asia, and The Philippines, with dozens of activists now camped outside the American Chamber of Commerce in Manila.
The next stop on the Occupy tour is expected to be Italy, where an increasingly unpopular Prime Minister Silvio Berlusconi narrowly passed a confidence vote in parliament on Friday. The Occupy Italy Facebook group has organized protests for Saturday in Rome, Florence and Milan. With less than 1,000 members, Occupy Italy is starting small, but it could grow like the Occupy Wall Street protest grew, especially with Italian unions' proclivity for striking.
Occupy Wall Street's roots are international as well.
We were inspired by what happened in Tunisia and Egypt and we had this feeling that America was ripe for a Tahrir moment, Kalle Lasn, the co-founder of the online magazine Adbusters that came up with the idea for Occupy, told Reuters.
But the Arab Spring wasn't the only source of influence. Since May, there have been massive protests across Spain against the government and the disastrous state of the country's economy. Thousands of people have gathered in dozens of cities, demanding social, financial and political reform, and demonstrators in Madrid have occupied the central Puerta del Sol square.
Spain -- like Greece, where there has been at least a year of recurring protests, and the United States -- is massively in debt. Unemployment in Spain rests around 20 percent, with nearly 50 percent of people under 25 out of work.
Occupy Wall Street might have also learned its participatory democracy policy from the so-called Spanish Revolution as well, although a number of social movements have eschewed leadership for group participation in the past.
The economic disaster of 2008 sent shockwaves across the world and exposed how deep many nations were in debt. After three years of little momentum, people in Belarus, France and Hungary have had enough and are prepared to tell that to their governments.
In 2010, a French activist and diplomat named Stéphane Hessel published a pamphlet titled Time for Outrage! (Indignez-vous! in French) that was a call to arms against financial inequality. The book argues that it is time for France, and the world, to speak out against the expanding wealth gap in Western nations, and it was one of the inspirations for the Spanish protests.
They have the nerve to tell us that the state can no longer cover the costs of these social programs (welfare, immigration). Yet how can the money to continue and extend these achievements be lacking today, when the creation of wealth has grown so enormously since the Liberation [of France], a time when Europe lay in ruins? Hassel writes.
It can only be because the power of money... has never been as great and as selfish and shameless as it is now, with its servants in the very highest circles of governments.... The gap between richest and poorest has never been so wide, competition and the circulation of capital never so encouraged.
In the past, left-wing rhetoric like Hassel's has been ridiculed and cast aside in the United States, better left in academia and among the fringe hippie youth. But Occupy's growing strength proves that America, and the world have had enough.
The book's success resonates beyond France, British journalist Simon Kuper said in January, nine months before Occupy would start in New York. Hessel is that rare phenomenon today: an acclaimed leftist. This should be the left's global moment, but isn't. We've had an economic crisis, bailouts for bankers, a botched war for oil, neglect of climate change and the relaxation of social mores.
Occupy Wall Street has also caught the attention of international leaders. China, North Korea and Iran have all cited the movement, albeit because it substantiates America's corrupt foundation, as Ayatollah Ali Khamenei claims, but others have praised the movement for different reasons.
We fight for changing the global economic system, like many anti-Wall Street citizens who rightly protest against the inequalities and injustices of the system, said Greek Prime Minister George Papandreou at a cabinet meeting on Wednesday.
Will Occupy Wall Street become a truly global movement?
Time will tell if the protests in Austria, Peru, Mexico or the 68 other countries home to Occupy supporters will grow to anywhere near the size of the movement in New York. But the growth of the movement worldwide shows that the Occupy Wall Street protestors have been successful: economic inequality is now the topic of conversation, and class consciousness, to borrow a phrase from Karl Marx, is spreading.
© Copyright IBTimes 2023. All rights reserved.
FOLLOW MORE IBT NEWS ON THE BELOW CHANNELS