Old Photo Of BTS, GOT7, Seventeen Together At Awards Show Brings Nostalgia To Fans
An old souvenir snap featuring members of famous South Korean boy bands sitting together at an awards show is making K-pop fans nostalgic online.
On Tuesday, a Twitter user uploaded a photo of successful South Korean boy groups huddled together for a photo during the 2018 Mnet Asian Music Awards (MAMA). Smiling for a souvenir photo are members of boy bands GOT7, BTS, Seventeen and Wanna One together with actor Song Joong Ki, rapper Tiger JK, Yoon Mirae, and others.
MAMA is a highly-anticipated award show in the K-pop industry which usually takes place at the end of every year. It aims to recognize the success of K-pop musicians and is marked by performances and collaborations from several artists.
"Seventeen, got7, bts, wannaone, tiger JK, Yoon mirae all together in one frame. This behind pic of MAMA 2018," a Twitter user captioned their post which was liked by nearly 6,000 fans at the time of writing.
Another zoomed in on the members of GOT7 and Wanna One and wrote, "MAMA 2018 backstage. Thank u so much whoever published this good old picture, i miss them more today."
GOT7 did not officially disband but opted not to renew its contract with JYP Entertainment after it ended in January 2021. The group has earned the admiration of industry observers who hailed their successful reunion this year despite each member's solo activities.
The band's self-titled album sold over half a million physical copies without the support of a large entertainment agency. GOT7 also performed in two sold-out fan meetings in Seoul in May. On the other hand, the last group activity of the boyband Wanna One was in 2019 following the expiration of its contract with Swing Entertainment.
Other fans took to the social media site Theqoo and commented, "I want to see GOT7," "It's a picture of memories, seriously," and "A photo of the two of my favorites together... It's precious..I love you," "Nice to see everyone happy," and "Wow, it's like Wanna One's previous life, everyone is doing well."
Last year, producers revealed plans of holding future MAMA events in the U.S.
"We will hold MAMA not only in Asia but also in the United States. We will solidify our position as an awards ceremony with music fans around the world. We will lead the Korean cultural trend by recruiting a lineup in various fields such as movies and dramas," CJ ENM Music Contents Head Director Kim Hyun-Soo told the press in 2021.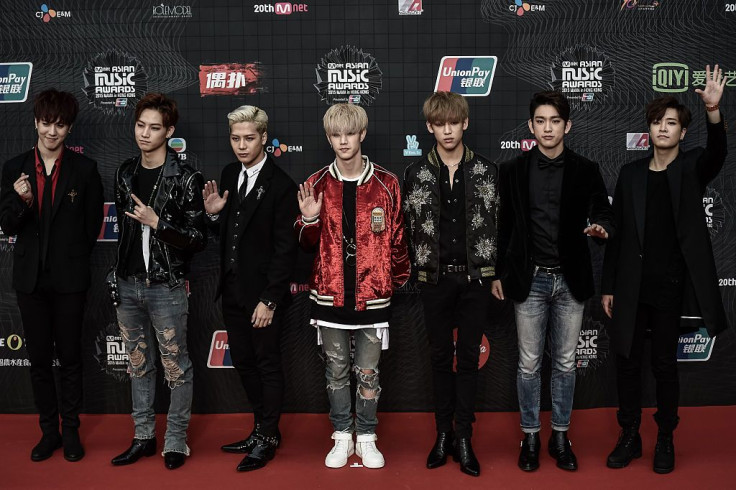 © Copyright IBTimes 2023. All rights reserved.