Olympic Gold Medalist Reportedly Spotted In Capitol Riot Video
KEY POINTS
An Olympic gold medalist may also have forced his way into the U.S. Capitol last week
Klete Keller was reportedly an "outspoken" supporter of President Trump
Dozens of charges have been filed so far in connection with the riot
Olympic gold medalist Klete Keller was reportedly part of last Wednesday's siege of the U.S. Capitol, which led to the deaths of five people, including a police officer.
Thousands of Trump supporters stormed the Capitol building last week, interrupting the electoral process to certify Joe Biden's victory in the presidential election. Some of the protesters filmed themselves taking part in the riots.
Videos of the incident that are circulating on social media sites have been helping authorities to identify the protesters. A video taken by Townhall reporter Julio Rosas appeared to show Keller among the crowd of Trump supporters, SwimSwam reported Monday.
Keller was reportedly identified by "at least a dozen people" based on the video, which appeared to show the two-time gold medalist without a mask and wearing the U.S. Olympic team jacket. According to The New York Times, the video has been circulating for a week among the swimming community, with several of them reporting the athlete to authorities.
Keller, who has been an "outspoken supporter of President Trump," has since deleted his social media accounts, SwimSwam reported.
USA Swimming was not able to confirm nor deny if Keller was indeed the man in the video.
"[W]e respect private individuals' and groups' rights to peacefully protest but in no way condone the actions taken by those at the Capitol last week," a spokesperson for USA Swimming told ESPN on Tuesday.
Although the video does not show the man participating in any violent acts, Keller may face consequences if his presence at the Capitol is confirmed, The Times explained.
The videos have so far helped identify the people involved in the event, including some well-known figures like Derrick Evans, the former member of the West Virginia House of Delegates, and Nick Ochs, the founder of the Proud Boys Hawaii chapter.
Dozens of charges have been filed, with about 20 federal cases being made available to the public so far, the Associated Press reported. More are expected to be charged in the coming days as investigators scour through over 100,000 digital media pieces sent in by members of the public.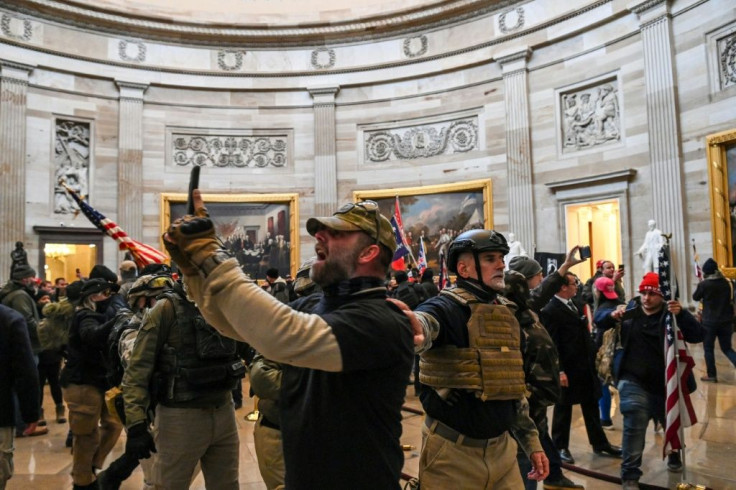 © Copyright IBTimes 2023. All rights reserved.