Omar Mateen's NYPD Gear Hints At Counter-Narrative Downplayed By ISIS-Focused Media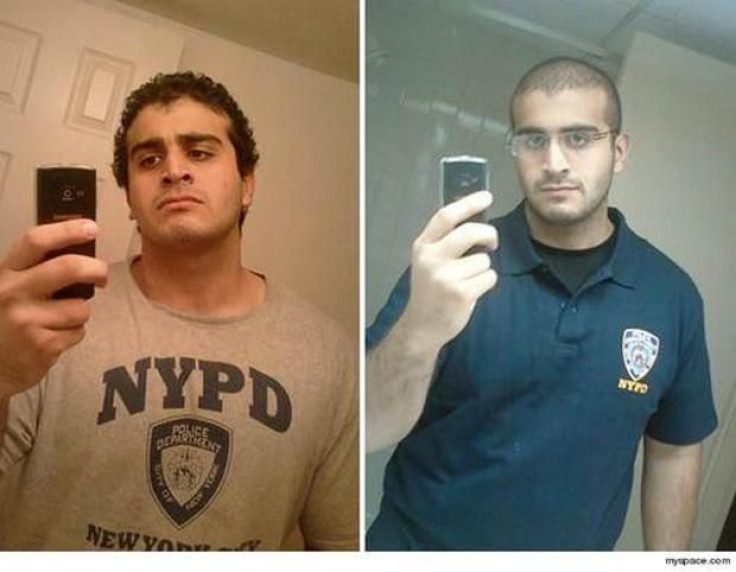 The aftermath of yet another mass killing in America has brought with it another news cycle of easy angles. The media has spent the last day and a half picking apart the presumed motives, influences and personal obsessions of the killer. In the absence of a complete profile, viewers and readers will form a picture of Omar Mateen — the 29-year-old Florida resident alleged to have killed 49 people at a gay dance club in Orlando Sunday morning — based on the touch-and-go media analysis over the next several days.
The headlines have spoken: Terror in Orlando. Mateen, reports suggest, was an Islamic terrorist, radicalized by ISIS and motivated by religious zealotry.
But while that may be the most dramatic angle, it's only one of many aspects of Mateen's identity. Behind the sensational terror stories lie his history of domestic abuse (according to his ex-wife) and a folder of selfies suggesting he was a fan or possible aspirant of the New York Police Department. That second point has so far been glossed over by much of the media, despite being the topic of much conversation on Twitter and other social media sites.
So far, the extent of the "jihadist" motivation is murky; Mateen made a personal pledge to the Islamic State group, but no one has reported a substantive connection to the terror group. His father has opined about Mateen's motives, but Seddique Mir Mateen is a self-professed supporter of the Taliban in Afghanistan.
Fox News has run with the story about a religious zealot. CNN's chyron on Monday morning read, "Gunman attended mosque where suicide bomber worshipped." CNBC invited on Florida's Republican Gov. Rick Scott, who urged the president to declare a state of emergency as the channel's hosts asked Scott about the alleged shooter's "tangential" ties to the terror group.
Meanwhile, a counter-narrative has emerged on social media. People are asking why the media hasn't paid as much attention to other aspects of the alleged gunman's life, such as his alleged history of violence and abuse against his family, and his penchant for dressing in NYPD merchandise.
Mateen, who worked as a licensed security guard employed by GS4, one of the largest security companies in the world, left behind a batch of headshots and personal photos on his social media accounts. Among them are several selfies he took bearing different shirts and jackets featuring the NYPD logo.
In light of those images, many are hoping for more headlines like the one run by the New Hampshire Union Leader: " Orlando Shooter Was a Would-Be Cop With History of Domestic Violence."
The NYPD, immediately pressed on the above photos, put out a statement on Twitter: "Re: photos of the alleged #Orlando shooter wearing #NYPD clothing, there is absolutely no affiliation at this time."
When asked to clarify whether the department had any previous interaction or affiliation with Mateen, the department told International Business Times: "No affiliation."
© Copyright IBTimes 2022. All rights reserved.
FOLLOW MORE IBT NEWS ON THE BELOW CHANNELS