Orlando Nightclub Shooting: Florida Jews Show Solidarity With Muslims After Terror Attack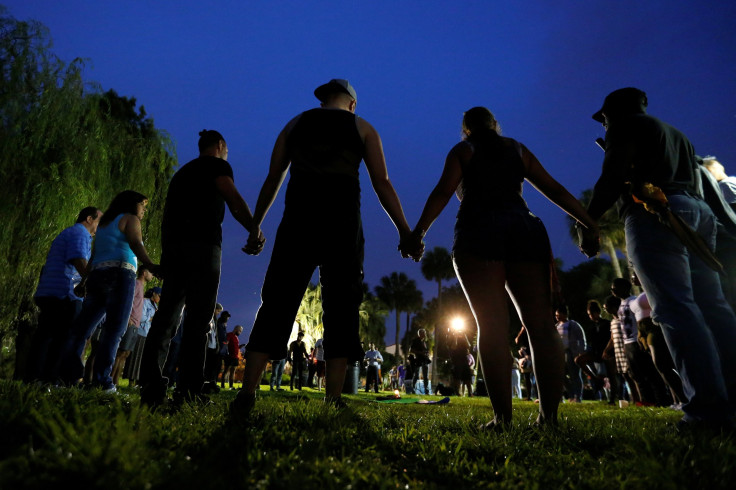 Religious leaders in Central Florida called Monday for interfaith unity and cooperation after a gunman killed 49 people Sunday in the worst mass shooting on U.S. soil.
The gunman, Omar Mateen, was a Muslim who was born in the United States but had pledged allegiance to the Islamic State group, law enforcement officials said. There has been a sharp rise in anti-Muslim attacks across the country over the past year after terror attacks in Paris and San Bernardino, California, sparked fear and backlash against the American Muslim community.
Rabbi Steven Engel of the Congregation for Reform Judaism, the largest synagogue in Orlando, spoke with Imam Muhammad Masri, president of the Islamic Society of Central Florida, to plan a memorial service for victims of the Pulse nightclub massacre, the Forward, a Jewish news site, reported Monday.
"(We want) to support each other, to support the whole community," Masri said outside the club.
After each new attack, Muslims in the U.S. have said they fear an increase in anti-Muslim rhetoric, and many Muslims rushed to condemn Sunday's shooting. Last December, many Republicans urged the U.S. to stop accepting refugees from the Middle East — many of whom are Muslim — after the San Bernardino killings out of a fear that terrorists would sneak into the country amid refugees. Presumptive Republican nominee Donald Trump responded similarly on Sunday, reiterating his previous call to ban all Muslims entering the United States.
Masri emphasized that the Orlando shooter was an American and would not be affected by policies like the one proposed by Trump.
"He came from two hours away. You can't put a border to stop someone like this," Masri said. He added that he did not consider the shooter to be a Muslim, the Forward reported.
Other religious leaders spoke about gun control and emphasized the need to stick to America's constitutional values in the face of this latest slaughter.
"The staggering loss of life, yet again facilitated by a military-style weapon that has no place on the street, causes us deep pain," Rabbi Jonah Dov Pesner, director of the Religious Action Center of Reform Judaism, said in a press release. "The attack is also further proof, as if any were needed, of the imperative to end the culture of gun violence that grips the nation."
Rep. Alan Grayson, D-Fla., whose district includes the area of the shooting and is Jewish, also spoke out against prejudice following attacks like this one.
"We don't engage in preventive detention here, that's unconstitutional. We don't engage in racial profiling or religious profiling – that's unconstitutional," Grayson said. "There's not much to do except to watch people like that as closely as we can."
The Florida chapter of the Council on American-Islamic Relations, the country's largest Muslim civil rights group, condemned the crime and said there is no excuse for violence.
"We condemn this monstrous attack and offer our heartfelt condolences to the families and loved ones of all those killed or injured. The Muslim community joins our fellow Americans in repudiating anyone or any group that would claim to justify or excuse such an appalling act of violence," CAIR's Orlando regional coordinator, Rasha Mubarak, said in a statement.
Christians also spoke out after the attack, offering prayers and condemning the violence. A piece on Christian Today titled "Why Christians must not stay quiet" talked about love after the shooting aimed at the LGBT community in Florida.
© Copyright IBTimes 2023. All rights reserved.