One-Billionth Tourist To Travel On Dec. 13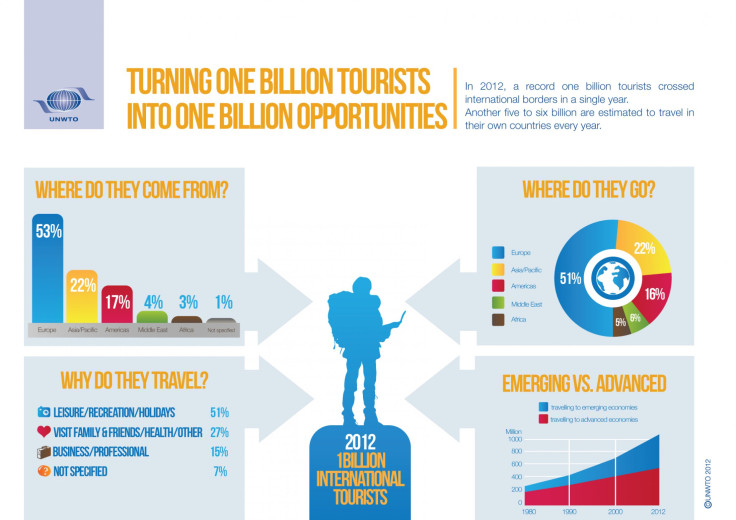 The United Nations World Tourism Organization believes the one-billionth tourist will cross an international border on Thursday, Dec. 13, marking an historic milestone in human interaction.
The UNWTO will mark the occasion with its "One Billion Tourists: One Billion Opportunities" campaign, which looks at the ways in which travel can drive economic growth and sustainable development.
"Imagine the difference one tourist could make by adopting small changes, from using their towels for more than one day, to hiring a local guide or buying local products. Now imagine if these simple actions were multiplied by one billion: that is the power of one billion tourists," said UNWTO Secretary General Taleb Rifai at the campaign's launch at the World Travel Market in London last month.
"Every single person who has traveled in 2012, whether on holiday or business, is part of the one billion and can make a real difference," Rifai said. "I hope everyone will join our campaign and help us spread the message that one billion tourists really do mean one billion opportunities, for economic growth, job creation and the future of our planet."
The UNWTO relies on international visitor arrival data from more than 200 governments to make its projections, which include both business and leisure travelers. Though it's impossible to know the exact arrival date of the one-billionth tourist, UNWTO forecasts point to the middle of December. The organization chose Dec. 13 as a symbolic day to showcase the importance of tourism, which accounts for 9 percent of the world's GDP, 6 percent of world trade, $1.2 trillion in exports and one in 12 jobs, according to its latest figures.
The organization believes tourism grew between 3.5 and 4 percent globally in 2012, with Chinese tourists leading the charge with a year-on-year growth rate of 30 percent. Russians are traveling in record numbers, too, with a growth rate of 16 percent. The UNWTO believes the places that make it easiest to visit for residents of BRIC countries (Brazil, Russia, India and China) will see some of the biggest rewards in the coming years.
France (79.5 million), the United States (62.3 million), China (57.6 million), Spain (56.7 million) and Italy (46.1 million) remain the most visited nations and are expected to stay so in 2013 as tourist numbers grow.
By 2015, half of the world's international travelers will come from emerging countries, and by the end of the decade, UNWTO expects the number of world travelers to reach 1.8 billion, with one out of every 10 people working either directly or indirectly for the industry.
The trend in global tourism is unmistakable: It's rising. Fast.
© Copyright IBTimes 2023. All rights reserved.