One Direction Invited to White House: Michelle Obama Charmed by X-Factor Group, Report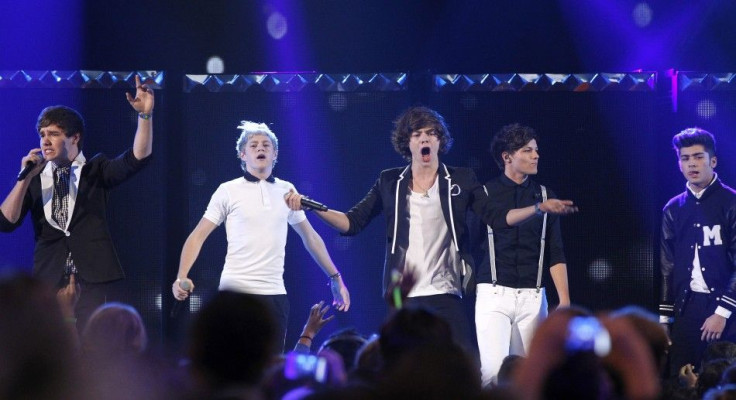 Michelle Obama has reportedly invited X-Factor's One Direction, to the annual White House Easter egg hunt after being charmed by the group at the Nickelodeon Kids' Choice Awards, according to The Sun.
The tabloid claims that Michelle Obama met the group backstage at the award ceremony on Sunday, with her two daughters Malia, 13, and Sasha, ten.
Harry Styles, a member of the band, was reported to have charmed Michelle Obama, describing her as a very attractive older woman and making the first lady laugh by asking her how pizza is delivered to the White House.
A source told The Sun that Michelle Obama, invited them to the White House for their annual Easter egg hunt on Easter Monday. It was such an honor.
Apparently the group-- Harry Styles, Louis Tomlinson, Liam Payne, Niall Horan and Zayn Malik-had to turn down the offer down because they will be touring in Australia on those dates, but they told the first lady that they would be taking her up on the offer another time.
Last week One Direction became the first British band to debut at number one of the U.S album chart, according to The Sun.
The news of the White House invitation has attracted mixed reviews. What! They were invited to the White house by Michelle Obama, oh please they are the x-factor rejects, didn't even blooming win. They cannot sing to save their lives, it's all auto tuned. All they do is mime, what is the matter with the world today, the rejects seem to rule look at that buffoon Olly Murs who will attend to the opening of a packet of crisps, wrote Mapoza commenting on the article in The Sun.
Yay! One Direction all the way, haters!! One D has talent, good looks and a very nice personality! What more could you ask, wrote another commenter.
© Copyright IBTimes 2023. All rights reserved.