'One Piece' 1024 Raw Scans Hint At Possible Zoro-Yamato Connection
KEY POINTS
"One Piece" 1024 will reportedly tell the backstory of Yamato
The upcoming manga is titled "A Certain Someone"
"One Piece" 1024 is set to release on Sunday
More details about "One Piece" 1024 are now rife online, suggesting several possibilities, including Zoro and Yamato's connection.
The insiders in the community shared the raw scans that give a glimpse of additional details about the chapter. According to the scans, Yamato was locked up in a cave with three powerful samurai, one of them is the Daimyo of Ringo, Shimotsuki Ushimaru.
While inside the cave, the samurai fed and taught Kaido's son how to read. Since Yamato has Oden's journal, all of them reading it learned about the world as well as Oden's prophecy about a pirate who will set Wano free.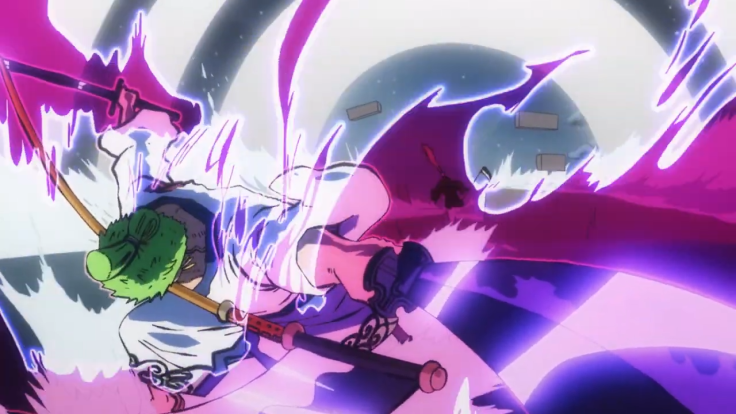 "One Piece" 1024 raw scans revealed Yamato's desire to help the country but the samurai told him that while she has the time, they do not have that luxury. Because of this, they decided to break the stone door of the cave, get out and fight Kaido.
Yamato has not yet seen Zoro and since the Pirate Hunter has a strong resemblance to the former Daimyo of Ringo, there is a chance Yamato would bring this up when they meet in the future chapters of the manga.
The raw scans also revealed the reason why Yamato was imprisoned. It appears Kaido's son went on a rampage in Onigashima and defeated some of his father's subordinates.
Apparently, his action earned him the moniker the Ogre Princess. It was also revealed that Yamato was able to use the Color of the Supreme King Haki at such an early age.
It is good news for Kaido if Yamato believes in his father's agenda. However, because his son hero-worships Oden, Kaido thinks Yamato is a great threat in achieving his goals.
"One Piece" 1024 is titled "A Certain Someone," which is the term the samurai used when Yamato asked for his name. It turns out that the samurai is a spitting image of Zoro and wears a bandage on his left eye. That "certain someone" is Shimotsuki Ushimaru.
Moreover, the raw scans also revealed one of the panels showing Yamato and Kaido's fight. For the first time, it looks like Yamato manages to be equal to his father, the raw scans said.
"One Piece" 1024 releases on Sunday.
© Copyright IBTimes 2023. All rights reserved.