Orlando Shooting And Guns: Assault Weapons Advertising Goes Up, But Big Ad Agencies Won't Bite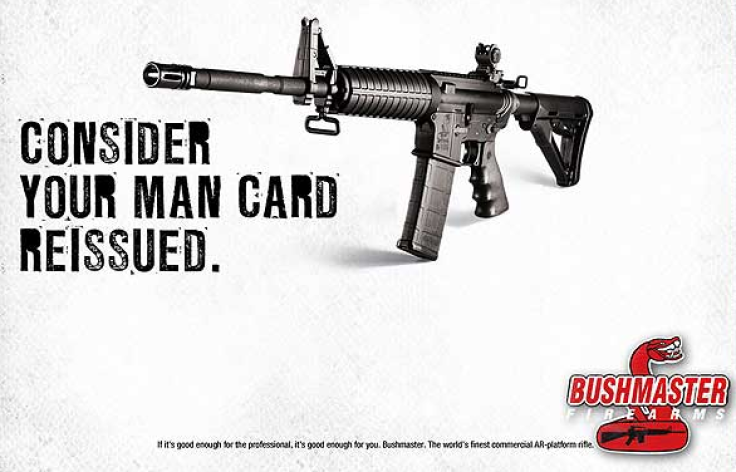 To entice potential customers to purchase its high-powered assault rifle, Bushmaster, one of America's largest gun manufacturers, uses the slogan "Justice for All.'' Its print ads tell prospective buyers: "Consider your man card reissued." Sig Sauer, another major gun manufacturer, advertises its MCX rifle in a dramatic video of a single shooter, calling the gun the "start of a new era."
In the wake of the massacre at an LGBT nightclub in Orlando, Florida, many politicians are demanding stricter gun laws. But a lot less attention is focused on the marketing tactics of American gun manufacturers, who can — unlike cigarette and alcohol companies — legally and freely market their products with little to no regulation.
"If you look at the gun industry's advertising today, it's militarized," says Josh Sugarmann, the founder and executive director of the Violence Policy Center, an American nonprofit organization that advocates for gun control. "It's focused on two things: assault weapons and high-capacity semi-automatic pistols."
Compared to the hundreds of millions of dollars spent by soft drink companies or cigarette makers, the total spent on assault weapons advertising is tiny. Smith & Wesson spent $20 million on advertising and marketing in 2015, according to its yearly filings with the Securities and Exchange Commission, and just a small fraction went toward marketing its assault weapons.
But the budgets for assault weapons are getting bigger, and as more money is spent promoting more powerful, more deadly weapons like the ones used in Orlando, it creates a quandary for ad agencies, who have to weigh whether they want to create demand for products that can kill lots of people very quickly.
"If I had my agency today and Remington came to me and said they wanted me to do ads for a redesigned AR-15, I would absolutely turn them down flat," said John Emmerling, an award-winning ad industry veteran who worked at Young & Rubicam for many years before running his own agency for two decades. "That's going to impact my ability to get other clients."
Ever since the December 2012 shooting at Sandy Hook Elementary School in Newtown, Connecticut, put assault weapons back in the spotlight, the amount of money spent on gun advertising has increased dramatically. From 2012 to 2013, the amount spent by five of the largest assault weapons manufacturers on advertising their own brands leapt more than 33 percent, according to Kantar Media data.
Remington's ad spending nearly doubled, from $740,000 to more than $1.4 million in those years; Sig Sauer's soared from just $30,000 to $230,000, according to Kantar.
A leap in spending might pique competitors' interest. But it doesn't seem like that uptick in spending attracted top agency interest in gun manufacturers.
That's partly a function of the size of these brands' marketing budgets. They're relatively small compared to consumer packaged goods. Philip Morris spent $484 million advertising cigarettes in 2015 alone, for example.
"With a category like guns, there isn't some account where tens of millions of dollars in billings are up for grabs," said Stuart Elliott, the longtime advertising reporter for the New York Times and current columnist for Media Village.
But it's also because many of the largest ad agencies have moved on from the rule of thumb — "If it's legal, we'll take it," as Elliott put it — that dominated the ad business in the 1950s and '60s.
They've changed because today, having a client that makes something perceived to be dangerous, or unhealthy, can have an unwelcome ripple effect across one's business. "That's going to impact my ability to get other clients," Emmerling said. "It's going to impact my ability to hire top creative talent."
Gun makers, for their part, might also be leery of working with big city agencies that don't have a track record of speaking to gun enthusiasts in a convincing way. In one famous example, the weapons manufacturer Heckler & Koch became the subject of ridicule among gun enthusiasts because of an ad that featured bullets slotted into a gun magazine in the wrong direction.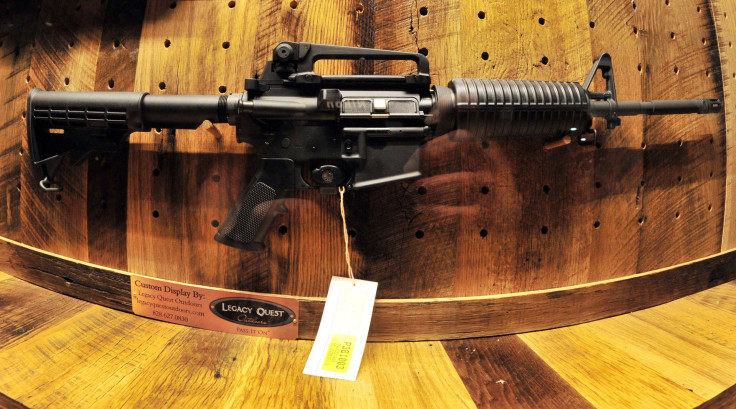 Regardless of who's writing the copy or executing the campaigns, these manufacturers are hardly reliant on ad strategy to drive sales; Smith & Wesson pulled in more than $551 million in revenue last year, thanks mostly to a dedicated, enthusiastic population of loyal gun buyers.
"If you focus on manufacturer advertising, you are missing the larger picture," Terrence Witkowski, a professor at California State University, Long Beach, who has studied the visual language of gun culture, wrote in an email to International Business Times. "American gun culture is a form of consumer culture where much influence flows from the grassroots, bottom up, not top down."
The sad truth is tragedies like the ones in Orlando or Newtown are actually their own best advertising. While most gun manufacturers will never admit it, the demonization that is rained down on their products is good for business, as sales boom in the aftermath.
In 1993, reports that the weapon used in a mass shooting in San Francisco was a Tec-9 set off waves of people condemning the gun. To Intratec, the gun's manufacturer, those howls of anger were music to its ears.
"I'm kind of flattered," Mike Solo, Intratec's marketing and sales director, told the New York Times. "It just has that advertising tingle to it. Hey, it's talked about, it's read about, the media write about it. That generates more sales for me. It might sound cold and cruel, but I'm sales oriented."
© Copyright IBTimes 2022. All rights reserved.
FOLLOW MORE IBT NEWS ON THE BELOW CHANNELS