'Orphan Black' Season 3 Spoilers: Is One Clone Dead? Executive Producer Reveals Rachel's Fate And The Future Of DYAD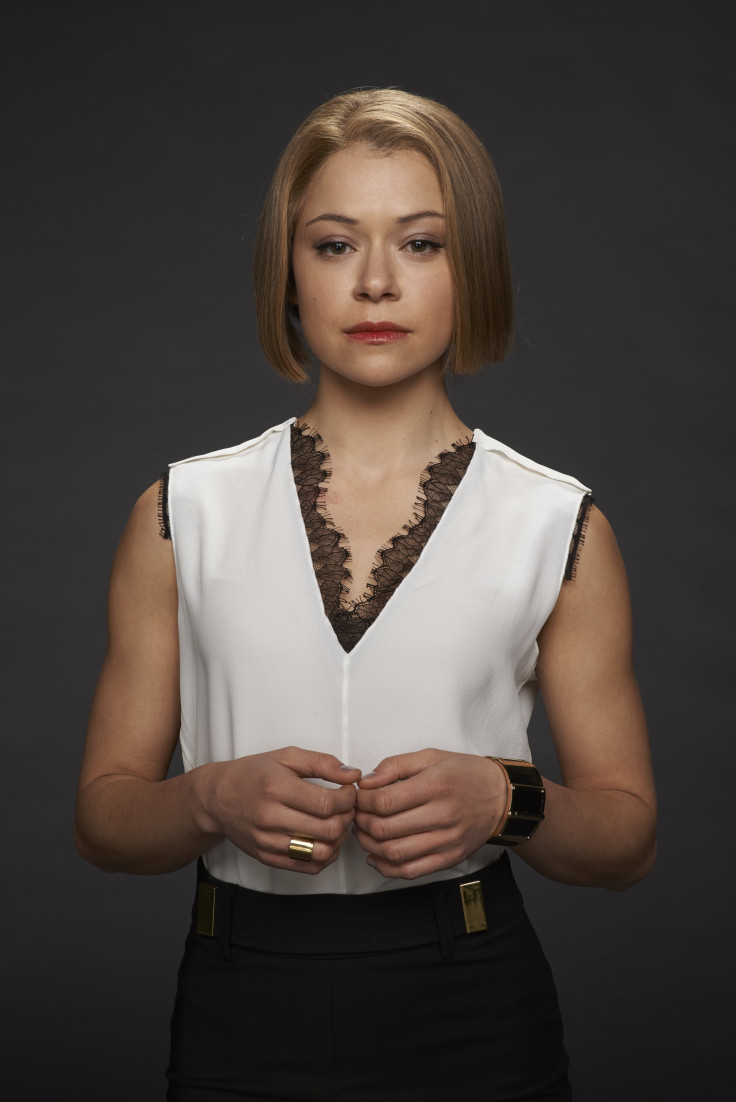 "Orphan Black" Season 2 left off on several major cliffhangers, and one even included Rachel's (Tatiana Maslany) life. Her clones Cosima and Sarah used a fire extinguisher to launch a pencil into Rachel's eye, allowing Sarah to escape. Rachel's fate was unknown -- until now.
Executive producer John Fawcett unveiled the fate of the vindictive clone. "She's alive," Fawcett told Entertainment Weekly.
Rachel's absence from the promos and synopsis made fans suspicious. Both included the main clones -- Sarah, Cosima, Alison and Helena -- but, without Rachel, many fans wondered whether she was dead. Producers didn't appear to be giving fans any hints, either. "I suppose the main question for Rachel is, how deep did that pencil go?" executive producer Graeme Manson told Entertainment Weekly last year. Luckily, Fawcett recently decided to give fans more information and even wanted to reveal a few more details about Rachel's storyline after sharing that she survived.
"How do you take someone like that and then f--- them up?" Fawcett asked. "How do they respond to that? This is someone who has a ton of power, really, and thrives on [being above the other clones]. Now to be less than perfect and to have her authority and power stripped from her, that's an interesting journey that character could be on this year."
Having her "authority and power stripped" means Rachel won't be in her powerful position at the Dyad Institute anymore. After Dr. Leekie (Matt Frewer) was killed, it seemed Rachel would take over the institute and finally be in control of her future. However, a pencil through the eye will put her on the sidelines while someone else takes over.
Entertainment Weekly noted that her replacement would surprise fans, so who could it be? Marion (Michelle Forbes), Delphine (Evelyne Brochu) and Cosima are the only characters that fans know are deeply involved with Dyad already. Marion wouldn't exactly surprise fans. She was already involved with Dyad, and fans don't know much about her. Delphine or Cosima as the new leader would definitely shock viewers. The promotion would actually be the best way to get Delphine back from Germany. Rachel transferred her to keep the scientist away from her girlfriend Cosima, but the synopsis revealed that she would still be in the "Orphan Black" Season 3. At the very least, her return will be another thing that makes Rachel feel powerless.
Of course, the new leader might not be any of the women already involved with the institute. The "Orphan Black" writers could easily throw in a character who previously had no connection to Dyad to really shock fans, but that's one detail producers likely won't give away any time soon.
"Orphan Black" Season 3 returns to BBC America Saturday, April 18. Are you happy Rachel survived? Who do you think will take over Dyad? Sound off in the comments section below!
© Copyright IBTimes 2023. All rights reserved.