Oscar ratings down seven percent, hosts blamed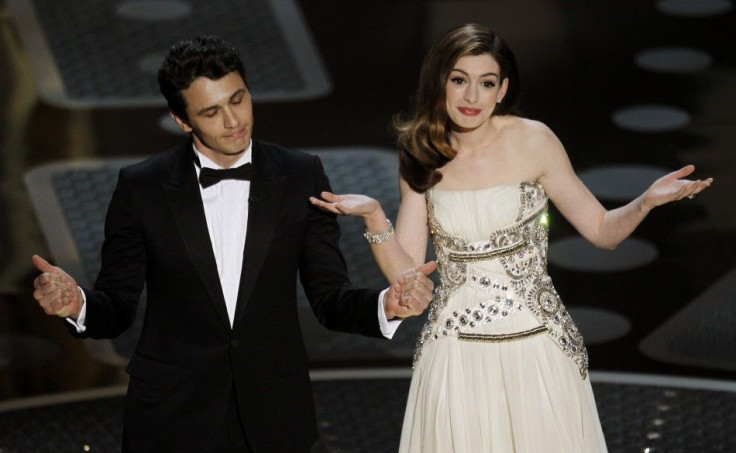 James Franco and Anne Hathaway were chosen as the hosts for the 83rd Annual Academy Awards with the hope of appealing to a younger demographic. Even so, the pair failed to pull big ratings during the awards ceremony.
The TV audience dropped approximately seven percent compared to last year's awards show which was hosted by Alec Baldwin and Steve Martin, according to Reuters.
Last year, 41.7 million viewers tuned in to watch the Academy Awards in the U.S. This was the largest audience for the Oscars in five years.
While viewership dropped seven percent, the Academy Awards was the most watched TV show Sunday night. The show had more than double the audience of the other TV networks combined.
Nielsen figures report that during the 3 ½ hour mark in the show, when The King's Speech was awarded Best Picture, the 19-49 demographic, that was targeted by advertisers, held strong.
Many have blamed the hosts for the bad ratings. Anne Hathaway, who is 28, is the youngest host in Oscar history. The Hollywood Reporter gave a harsh critique saying In what could go down as one of the worst Oscar telecasts in history, a bad and risky idea - letting two actors host - proved out in spectacularly unwatchable fashion on the biggest of all nights for the film world.
Other media outlets also criticized the hosts.
The New York Times wrote, At times, the prolonged effort to pander to younger viewers was downright painful. ... A little like the attempt to graft Generation Y technology to old-fangled Hollywood panache, their stage personas clashed: Mr. Cooler-Than-Thou and Miss Eager-to-Please never really synched.
© Copyright IBTimes 2023. All rights reserved.