Oscars 2013: Seth MacFarlane Won't Rescue Ratings Decline, But Better Movies Might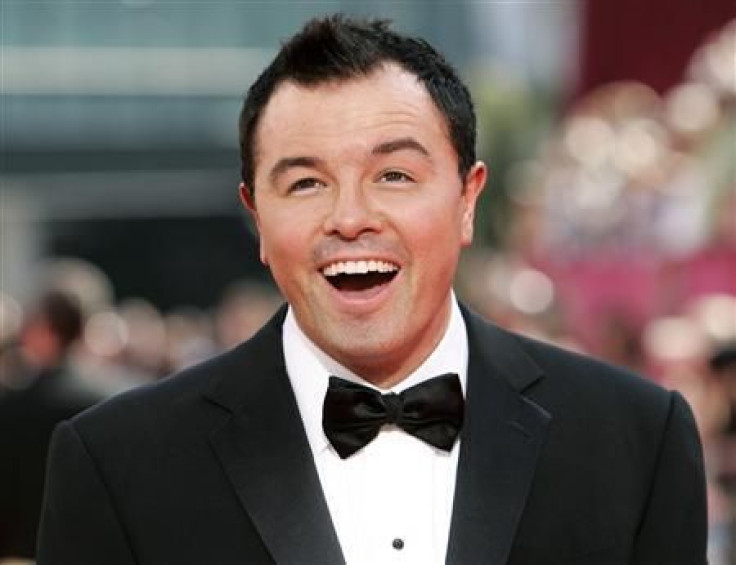 The Oscars need ratings, but do they need the guy who voices Peter Griffin?
By most measures Seth MacFarlane is an inspired choice to host the 85th annual Academy Awards ceremony on Sunday. The "Family Guy" creator wrote, directed and voiced the title character for last summer's sleeper hit "Ted." What's more, MacFarlane is edgy, sharp, irreverent and all but guaranteed to spend the evening hurling Ricky Gervais-style insults at the red-carpet royalty. Academy officials are betting that MacFarlane, a TV-reared outsider, will draw in younger viewers for a telecast that sorely needs them.
But can the right Oscar host really mean the difference between a ratings bonanza and an all-out bomb? Maybe not so much.
It's no secret that viewership for the Academy Awards telecast has been on a downward slope over the last 15 or so years. During its peak year in 1998, some 55.3 million people tuned in for Hollywood's biggest night. By comparison, last year's ceremony attracted a paltry 37.6 million viewers. Why the difference? It wasn't the hosts who separated the two events -- both were emceed by Billy Crystal. However, the 1998 telecast had something last year's didn't. It had James Cameron's "Titanic" -- one of the highest-grossing movies ever made -- competing for the top prize. In contrast, last year's Oscar race was a ho-hum slugfest between modest box-office earners such as "The Descendants," "War Horse" and the winning film, "The Artist," none of which performed exceptionally well during their theatrical run.
In fact, a look at the Nielsen ratings for Oscar telecasts of the last 30 years shows a strong correlation between the movies competing and the number of people who watched. Nominate a blockbuster, and you're pretty much guaranteed a bigger audience, regardless of the host. Consider the 1983 Oscar ceremony, one of only two telecasts ever to top the 50 million-viewer mark. "Gandhi" took home the top prize that year, but it was competing alongside Steven Spielberg's "E.T.: The Extra-Terrestrial," the highest-grossing movie of the decade. And in 2010, when James Cameron's "Avatar" was in the running, Oscar ratings were boosted by 5 million viewers from the previous year, despite the fact that the movie lost to Kathryn Bigelow's "The Hurt Locker."
And then there was 2008, the year ratings fell to a record low of 31.8 million viewers. Jon Stewart was the host that year, and he hasn't been asked back since, but is it really fair that he took the fall? Of the five films competing for Best Picture, only one, Jason Reitman's "Juno," performed even moderately well at the box office, taking in $143 million domestically. The other four -- "Atonement," "Michael Clayton," "There Will Be Blood" and the winning "No Country for Old Men" -- barely broke the $50 million mark. Indeed, it was two years later that the Academy, desperate to attract more viewers, opened up the competition to as many as 10 films, a tactic that has helped ratings rebound.
This is not to say that a good host can't help draw viewers. Chris Rock boosted ratings in the key 18-34 demo, when he hosted in 2005, but the telecast as a whole only managed to attract a viewership of 42.1 million, down by about 2 million viewers from the Billy Crystal-hosted telecast in 2004. That's because Crystal had the advantage of hosting during the year when Peter Jackson's first "Lord of the Rings" movie was competing for top prize, as opposed to Clint Eastwood's "Million Dollar Baby," the year Rock hosted.
What does all this mean for Seth MacFarlane? The good news is, this year's crop of nominees includes plenty of well-performing entries: "Lincoln," "Argo," "Life of Pi," "Django Unchained," "Les Misérables" and "Silver Linings Playbook" all broke the $100 million mark at the box office, not blockbusters necessarily, but moderate hits nonetheless. That means MacFarlane, ratings-wise, is likely to have a decent night on Sunday. Of course, if Academy voters really wanted to ensure a ratings win, they would have nominated Marvel's "The Avengers," although that would admittedly look suspicious, and let's be honest -- the Hulk would make a lousy red-carpet interview.
To be sure, the Academy made a good bet with MacFarlane, and some viewers on Sunday will undoubtedly tune in just to hear what he'll say. But if history is any indication, MacFarlane won't make or break the evening. No host does. As James Carville might say, "It's the movies, stupid." Or if not the movies, at least the box office.
Got a news tip? Send me an email. Follow me on Twitter: @christopherzara
FOR FREE to continue reading
✔️ Unlock the full content of International Business Times UK for free
offer available for a limited time only
✔️ Easily manage your Newsletters subscriptions and save your favourite articles
✔️ No payment method required
Already have an account?
Log in
© Copyright IBTimes 2023. All rights reserved.