'Outlander' Season 1 Recap: 6 Shocking Moments From The Mid Season Finale, Episode 8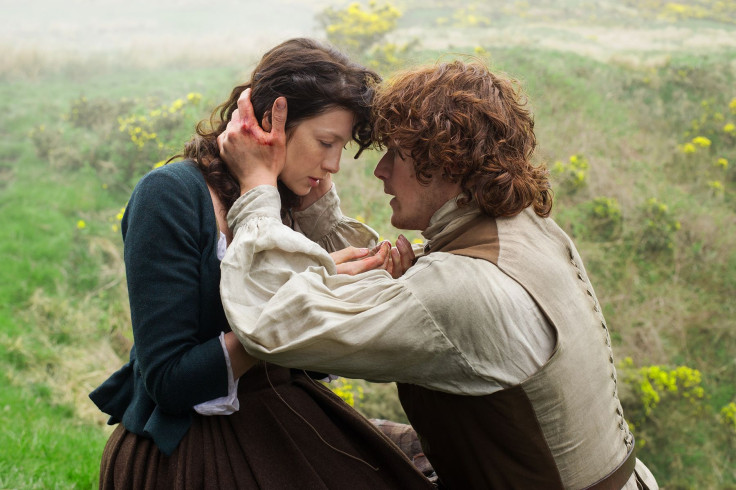 "Outlander" Season 1 episode 8 served as the mid-season finale for the Starz's drama, and it definitely left fans wanting more. The finale, titled "Both Sides Now," picked up with Jamie (Sam Heughan) and Claire (Caitriona Balfe) just two days after their wedding. However, the episode also showed what Claire's first husband, Frank (Tobias Menzies), has been up to since she went missing. It wasn't surprising to find that he was still looking for his wife, but the mid-season finale of "Outlander" gave fans plenty of other moments that were absolutely shocking:
1. Coitus Interruptus
Jamie and Claire snuck away for some alone time. Jamie was clearly happy to experience newlywed life with his wife. He compared sex with Claire to a religious experience and asked, "Does it ever stop? The wanting you?"
Claire laughed at his praise, but the fun stopped when they were interrupted by two redcoats.
2. Claire Killed a Man
One redcoat held Jamie at gunpoint while the other set out to rape Claire. However, Angus (Stephen Walters) taught her how to use a sgian dhu (a tiny, hidden knife) earlier that day. She stabbed the man in the back and killed him, and Jamie managed to kill the man holding him hostage as well. Claire went into shock after it happened and realized that she shouldn't have lost sight of her plan to go home.
3. Everyone Gave Up On Finding Claire
Back in the 1940s, Frank was the only person holding onto the hope that Claire could come back to him. The police told him that she likely ran away with the highlander that Frank saw outside of his window the last time he was with Claire (which is kind of true). Reverend Wakefield (James Fleet) even told him to go home and give up.
However, Mrs. Graham (Tracey Wilkinson) told him her crazy folk tale about people traveling through the stones of Craigh Na Dun. Frank didn't believe her, but he visited the stones one last time.
4. Claire Made It Back To Craigh Na Dun
Jamie left Claire with a bodyguard in the forest while he went to see a man who claimed to be willing to clear Jamie's name. Supposedly, he witnessed Jamie's actions at Fort William and was willing to come forward. Jamie made Claire promise not to leave the forest, but once Claire saw the stones of Craigh Na Dun within walking distance, she couldn't remember her promise. She ran to the stones and heard Frank's voice yelling her name. "Frank!" Claire yelled back.
Just as she was about to touch the stone, redcoats captured Claire.
5. Black Jack Randall Captured Claire
The redcoats brought Claire to Fort William where she was reunited with Capt. Black Jack Randall (Tobias Menzies). Black Jack asked why Dougal would rather make her family than allow her to be questioned by the English. Claire used some of her knowledge of the future to convince him that they were on the same side.
Frank had speculated that Black Jack was protected by someone high up, likely a certain Duke. Claire convinced her husband's ancestor that she was working for the Duke as well. Black Jack asked about her communication with his wife, and Claire went along with that story. However, the Duke was never married.
6. Jamie Saved Claire
Claire couldn't escape after Black Jack caught her in a lie. He tied her wrists and bent her over the table. He removed her knife from her sock and lifted up her skirt. It seemed like he was going to rape her until Jamie came in through the window.
"I'd thank you to take your hands off my wife," Jamie said.
"Outlander" Season 1 will return to Starz on Apr. 4, 2015. What was the most shocking part of the finale? Sound off in the comments section below!
© Copyright IBTimes 2023. All rights reserved.