'Outlander' Season 3 Closely Follows The Book, Author Diana Gabaldon Says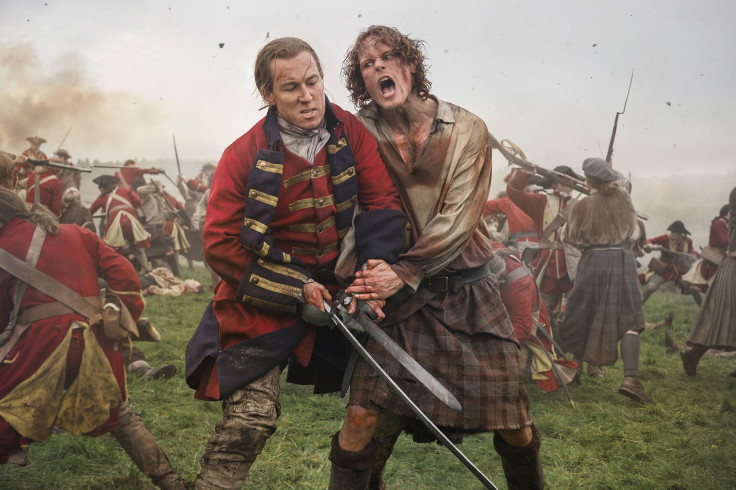 "Outlander" fans know by now that while the Starz TV show may make some changes, it generally follows the books pretty well. Author Diana Gabaldon assured fans that the same will remain true in Season 3.
When a fan on Twitter mentioned that they are "hearing that Season 3 is very close to the book," Gabaldon confirmed the reports.
"Voyager," first published in 1993, follows Jamie (Sam Heughan) and Claire (Caitriona Balfe) as they come back together after spending twenty years apart. While "Outlander" is going to follow much of the book, no TV adaptation can follow every storyline. The very first scene of Season 3 will deviate from the book's opening.
READ: Sam Heughan thanks fans for birthday wishes with a new photo
Rather than catching up with Jamie as he wakes up with no memory of the fight, the Season 3 premiere will open with Jamie in the Battle of Culloden. Showrunner Ronald D. Moore thought it was important to show Jamie facing off with Black Jack (Tobias Menzies).
"It just felt like for the TV show, we've been promising this for a while and it just felt like we should have something," Moore told Entertainment Weekly last fall. "We should give the audience some sense of what happened on that moor."
"Outlander" is also expanding some stories that the books didn't delve into. While Claire is stuck in the 20th century, Frank's (Menzies) life will be explored. It seems they go deeper than the books, but Gabaldon approves of the decision.
"They've expanded that end of the story a little bit, but they've done it well, very consistently," Gabaldon told TV Guide in November.
"Outlander" Season 3 will still focus on the characters readers love, and that includes introducing a few fan favorite characters. The grown up versions of Lord John Grey (David Berry) and Fergus (César Domboy) will be introduced. Also, Joe Abernathy (Wil Johnson) and Mr. Willoughby (Gary Young) will grace the screen for the first time in the new episodes. We're also pretty sure we spotted William Ransom in the first Season 3 teaser trailer.
While the TV show is not controlled by Gabaldon, she does give input. As previously reported, she is a consultant on Season 3. In the past, she made a cameo appearance and wrote an episode. However, she revealed that her writing projects are keeping her too busy to do more than consult on the new season.
"Outlander" Season 3 will premiere on Starz in September. An exact premiere date has yet to be revealed. For tips on how to survive the long hiatus, click HERE.
© Copyright IBTimes 2022. All rights reserved.
FOLLOW MORE IBT NEWS ON THE BELOW CHANNELS