'Outlander' Season 3 Spoilers: Sam Heughan Hates Filming Jamie's Seasickness Scenes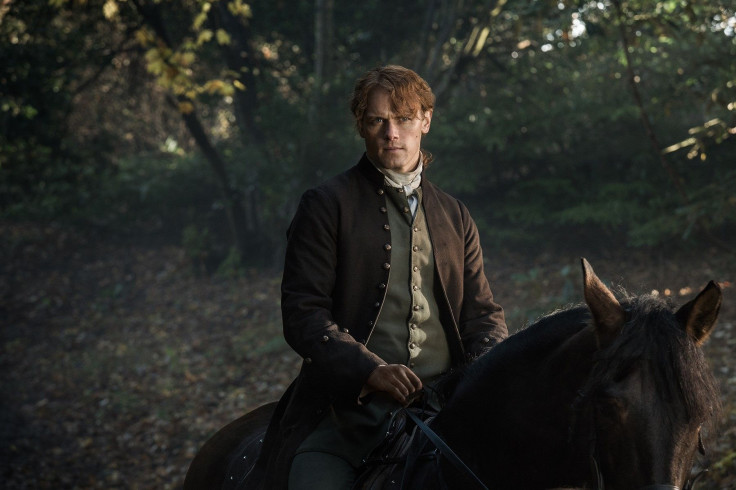 On Starz's "Outlander," Sam Heughan gets to do a lot of cool things. His character Jamie Fraser rides horses, sword fights and gets to marry his beloved Claire. However, Heughan's job isn't always so fun. Author Diana Gabaldon revealed that Heughan isn't thrilled about his seasickness scenes in Season 3.
Gabaldon's "Voyager" novel, first published in 1993, describes Jamie as a victim of seasickness. He has to spend a long time on the Artemis as he and Claire (Caitriona Balfe) travel to Jamaica, so it's fairly unpleasant. Even though they are not actually filming at sea, it's not a glamorous time for actor Sam Heughan either. Gabaldon saw how the seasickness scenes are created when she visited the set in South Africa.
"He was standing there with a page of script in his hand looking more than disheveled, and he said to me he thought he really was going to be sick," Gabaldon revealed to the Scottish Sun. "Sam said, 'They've given me egg whites tinted green with the most disgusting vanilla essence in it. And I have to hold it in my mouth until it's time to throw up.'"
It looks like Claire will be taking care of her husband while they're on the ship. However, readers know that new character Mr. Willoughby (Gary Young) will have a way to help Jamie. Though he isn't a doctor, he knows of some Chinese medical practices. However, the Chinese exile will cause plenty of trouble too if the show sticks to the book.
Luckily, as previously reported, Gabaldon already confirmed that "Outlander" is staying pretty close to the third novel. The TV show never seems to stray too far from the source material.
Fans are going to have to wait quite a while to see Jamie's seasickness, though. "Outlander" Season 3 will not start until September, and the scenes on the Artemis likely won't be in the first half of the season. First, Jamie and Claire have to find each other.
READ: "Outlander" fans can visit these filming locations
When Season 2 left off, Jamie sent Claire back to the 20th century just before the Battle of Culloden. She returned home and Frank (Tobias Menzies) agreed to raise Brianna as his own. However, 20 years later, Claire learned that Jamie didn't die at Culloden, and now she is determined to go back.
After they reunite, they'll head to the Carribean, but that's not where the actors are actually filming. Instead, Cape Town is hosting the "Outlander" cast and crew as they film the latter half of Season 3. Balfe and Heughan seem to be enjoying the sunny weather. They've both been keeping their Instagrams filled with photos of their beautiful surroundings.
It seems Heughan is hitting the gym when he isn't filming on the boat. Men's Fitness South Africa revealed that Heughan will be featured in an upcoming issue of the magazine. The outlet shared a sneak peak of Heughan showing off his work out routine while shirtless.
"Outlander" Season 3 premieres in September on Starz. An exact premiere date has not been announced yet.
© Copyright IBTimes 2023. All rights reserved.