'Outlander' Star Caitriona Balfe Wants To Do More Stunts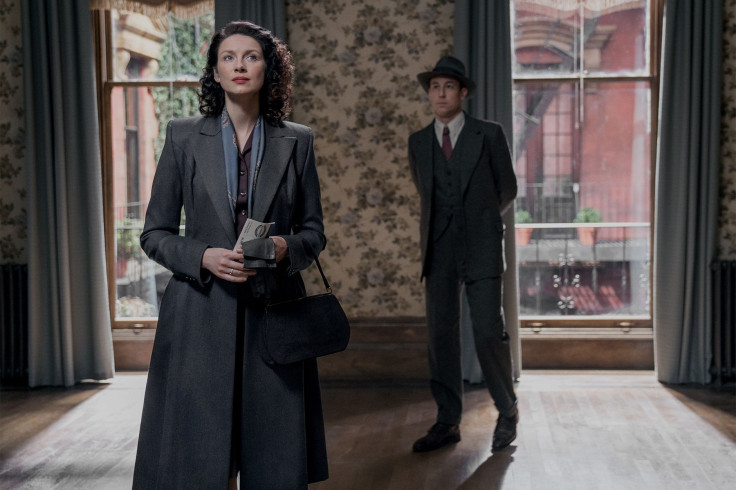 "Outlander" Season 3 is going to be an adventurous season for Jamie and Claire, but the actors don't get to have all the fun. Anything particularly dangerous is left up to stunt doubles, much to star Caitriona Balfe's dismay.
"Half the time they won't let me do as much as I want to," Balfe told Entertainment Weekly. The Claire actress and Sam Heughan are on the cover of the Sept. 1 issue of the magazine, which reports that "Outlander" Season 3 includes some intense stunts in the water.
"They end up using stunt doubles for insurance purposes, but I think Sam [Heughan] and I — and Tobias [Menzies] actually — we all like to get physical and we like the challenges of the physical elements of the job," Balfe revealed.
The actress was allowed to do a few of her own stunts with Heughan, but it doesn't always go well. She posted photos of her "war wounds" while the time travel drama was filming in South Africa earlier this year. Balfe revealed that she got a bruise on her leg from what readers of Diana Gabaldon's "Outlander" books know as the turtle soup scene.
Balfe also revealed that she got a bruise on the bridge of her nose in one of the final shots of the season. She claimed that Heughan "steered her into a log."
A few bruises don't scare the "Outlander" cast, though. Heughan apparently enjoyed exploring the set of the Artemis ship, even climbing up the masts. "It was amazing to go up there," he said. "We've got these very tall ships in the middle of the desert!"
While "Outlander" Season 3 starts off with Jamie and Claire in their respective times, they'll eventually find their way back to each other after several episodes. It won't be time for a second honeymoon yet, though. They quickly realize they have to go to Jamaica.
Balfe noted that being in South Africa was definitely an adjustment for the cast and crew, who mostly film in Scotland. However, it sounds like it was a pleasant change.
"I loved it," Balfe said. "I think it was definitely tough sometimes just because it was hot and that's something we're not always used to. And the scripts were quite physically intensive. Either you're out on the beaches all day or traipsing through a jungle. But I relished the chance to get down and dirty. So it's good."
When "Outlander" showrunner Ronald D. Moore spoke to International Business Times in June, he reported that the cast and crew were very happy to be in Cape Town.
"It gave a different vibe to the production, which was great because it was leaving Scotland in story and going somewhere else. You felt a different energy on the set because they were somewhere else," he told IBT. "It's a very different place. It's completely different from Scotland. You can see all the people, all the Scots in the crew, were out like baking in the sun and getting sunburned because they were just so in love with seeing the sun for a change."
"Outlander" fans will see Jamie and Claire's overseas adventures when Season 3 premieres Sunday, Sept. 10 at 8 p.m. EDT on Starz.
© Copyright IBTimes 2022. All rights reserved.
FOLLOW MORE IBT NEWS ON THE BELOW CHANNELS