'Outlander' Star Sam Heughan Hopes For Golden Globe Nominations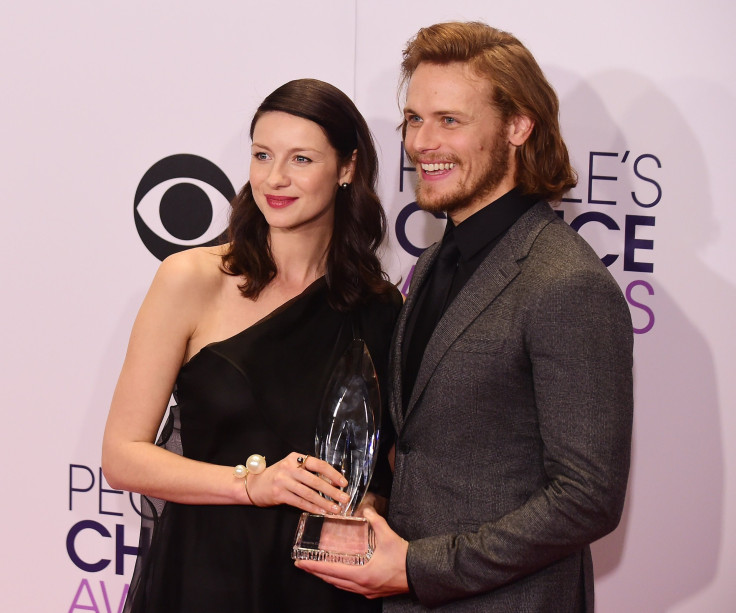 "Outlander" is a fan favorite show, but awards shows haven't given the time travel drama much love. Star Sam Heughan hopes to change that this awards season.
The actor, who plays Jamie Fraser on the Starz drama, posted a photo to Twitter Sunday that revealed he is sending a card to members of the Hollywood Foreign Press Association (HFPA), who determine the winners of the Golden Globes.
"Sending a wee note to our @goldenglobes friends! Hope you're enjoying season 3!! Our best yet," Heughan wrote.
"Outlander" has been nominated in major TV categories at the Golden Globes before. The first season scored nods for best TV drama, best actress (Caitriona Balfe) and best supporting actor (Tobias Menzies). The second season only scored one nod with Balfe in the actress category again. Heughan seems to be hoping for a few more nominations after Season 3.
While the show has yet to win a Golden Globe, "Outlander" has picked up several People's Choice Awards and Critics' Choice Television Awards. It has also done well in smaller competitions like the Saturn Awards and the Scottish BAFTAs. However, the Golden Globes and Emmys are the biggest awards for primetime TV.
The Globes have been significantly warmer to "Outlander" than the Emmys, which are decided by the Television Academy. The Primetime Emmys usually nominate "Outlander" in the technical categories. Bear McCreary's music was nominated in 2015 while 2016 brought nominations in both the production design and period costume categories.
Heughan will find out if his letter to members of the HFPA helped when nominations are revealed Dec. 11. The Golden Globes will air live on NBC Sunday, Jan. 7, and Seth Meyers will host the event.
While a Golden Globe would certainly be nice, it isn't going to play a factor in Starz's decision to renew the series. For shows that don't deliver high ratings, like "Crazy Ex Girlfriend" and "Jane the Virgin," the awards are more important. "Outlander" is averaging about half a million more viewers than it did last year, according to TV Series Finale, so that's not a concern.
"Outlander" fans know that Season 4 is already in the works. Starz ordered the fourth installment over a year ago, and it is currently filming in Scotland. It is expected to debut next year on Starz. For now, fans can enjoy Season 3, which airs Sundays at 8 p.m. EST.
© Copyright IBTimes 2023. All rights reserved.