Paige And Brooke Hyland Reveal Plans To Open Dance Studio; 'Dance Moms' Stars Dish About Filming Sister Tag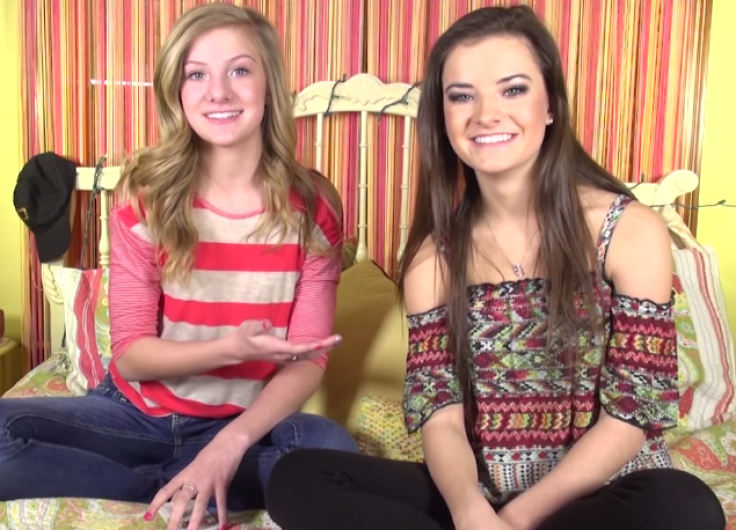 Paige and Brooke Hyland no longer star on Lifetime's reality series "Dance Moms," but that doesn't mean they have stopped perfecting their craft. After briefly speaking out about their dreams for their future on Paige's YouTube channel Sister Tag video Tuesday, the siblings took a moment to expand on their plans with the International Business Times. Unsurprisingly, their goals are equally aligned and both involve dance.
In the video, which has been highly-requested on Paige's channel since its relaunch in November, Paige, 14, and Brooke, 17, take turns asking one another questions as part of the popular YouTube series, the Sister Tag. When the topic of their futures arose, Brooke revealed she could see her sibling starting a family and opening a dance studio 10 years down the line. "You'll be a little stay-at-home mom, probably run a dance studio," she dished.
When it was Paige's turn, she said she could see Brooke going in a wide variety of directions, such as designing clothes or starring in a Cirque du Soleil show — a dream she frequently referenced on "Dance Moms." "I could see you having a family and doing something smart. I feel like you could be a doctor," Paige said. "Oh yeah, guys. I'm going to be a surgeon," Brooke joked.
Following the release of the video, Paige and Brooke have elaborated on their plans to IBTimes, revealing they're both interested in pursuing a dance-related career and possibly even opening their own studio.
"I love to dance and I love kids, so I am hoping to continue studying dance with great instructors and start teaching the younger students," Paige, who recently revealed she is now studying dance under various instructors, said. "Our families goal is to have a dance environment that is not only elite training but is a very positive, nurturing environment."
"Everyone always asks me how I do all my tricks. I hope to teach everyone all of my secrets," Brooke added, revealing that her mom Kelly Hyland, who is a former dancer, would also be involved. "My family have all danced our whole lives so it only seems natural to continue with dance," she said.
And while Brooke and Paige jokingly squabbled during the Sister Tag, Paige said that it isn't going to hold her back from working with her eldest sibling again in the future. "Brooke always likes to tease me. I think that is normal for a big sister. But deep down we both know there is no one you can count on more than a sister or brother. I loved doing the video with her," she said.
Following the success of her latest video, Paige said she is hopeful Brooke will make more cameos. She also shared that she wants her 15-year-old brother Joshua Hyland to guest star. Unfortunately for Paige and her subscribers, they may have to wait awhile before witnessing another appearance by Brooke. Despite admitting it was great "sister time" filming the YouTube questionnaire, Brooke said she is a little too busy at the moment to be heavily involved in Paige's channel.
"I don't really have a lot of time to do the videos. They take a lot of planning," Brooke admitted. "I am busy getting ready for college — SATs, college visits, studying — but I'm sure I will do another appearance soon. It was fun."
With the Hyland's careers and popularity on the up-and-up, fans of the sisters should stay tuned to Paige's channel. New videos premiere every Tuesday.
Check out the Hyland's Sister Tag video below:
© Copyright IBTimes 2023. All rights reserved.