Pajamas: Fashion Trend for Spring 2012? Rihanna and Other Celebrities Donning PJ's [PHOTOS]
Everyone wants an easy way to get dressed in the morning to look stylish without much thought or effort, even Fashionistas.
But a new fashion trend for Spring 2012 popping up everywhere completely ditches the idea of getting dressed altogether: Wearing pajamas as daywear.
Yes, fashion women everywhere are skipping the whole getting dressed in the morning step and donning their PJ's as clothes. In public.
The latest high-fashion trend first popped up in the early 2000's and made a few appearances throughout the years in 2009 and 2011. But pajamas for 2012 are certainly back, this time with a vengeance. And these aren't your grandma's pajamas. For this season, there are all sorts of variations like bright colors, wild prints, luxe fabrics, lace and even bedazzled pajamas for daytime.
The trend was even embraced by fashion heavy hitters like Louis Vuitton, Rachel Roy and Celine, who featured matching sleepwear sets of tops and bottoms on the runways for Spring 2012.
Louis Vuitton featured decadent PJs for the Vuitton Resort 2012 collection in a demure royal blue silk fabric with leopard print, priced at a whopping $1,200. Celine and Rachel Roy went with a more traditional pajama approach, in solid colors with clean lines and piping detail. Fashion mavens, like Barneys Fashion Director Amanda Brooks, paired them with killer heels and a smart bag or tops with tailored trousers and pencil skirts, as featured in the April edition of Harper's Bazaar.
The out-of-bed look has even spread to the mainstream, especially amongst teens and tweens, with retailers like Abercrombie & Fitch and American Eagle who have loaded their stores up with sleepwear to wear during the day, prompting many school districts to ban wearing pajamas to school.
Celebrities have also picked up the trend, naturally, like Rihanna who wore silky pajamas from Emilio Pucci's Autumn Winter 2012 collection to the Tokyo premiere of Battleship on Tuesday, paired with nude strappy sandals and a long necklace. Salma Hayek was spotted wearing some pretty polka dot pajamas at Los Angeles International Airport in mid-March after returning from Paris Fashion Week. Perhaps she was inspired.
Back in August, Rachel Roy spearheaded the trend, wearing blue striped classic pajamas to the premiere of One Day.
I have an 11-year-old and I like to show her that it's okay to take fashion risks and to have fun and tell a story with fashion, Roy told InStyle magazine of wearing PJs out and about.
Even little Suri Cruise, 5, wore heart-patterned pajamas out to dinner with her mom Katie Holmes in New York in late March. And hell, if Suri, the most influential little fashionista, thinks it's ok to wear PJs in public, I can't argue with that.
If you're thinking about emanating the pajama trend, what a better way to pull out your most fashionable nightwear and wear it to work on April 18, known as National Wear Your Pajamas To Work Day! According to the official day's website, pajama day is an annual tradition the day after taxes are due in the U.S.
Need more coaxing to accept that pajamas are part of high fashion? View the slideshow to see photos of celebrities like Rihanna and designers with pajama-inspired looks on the runway.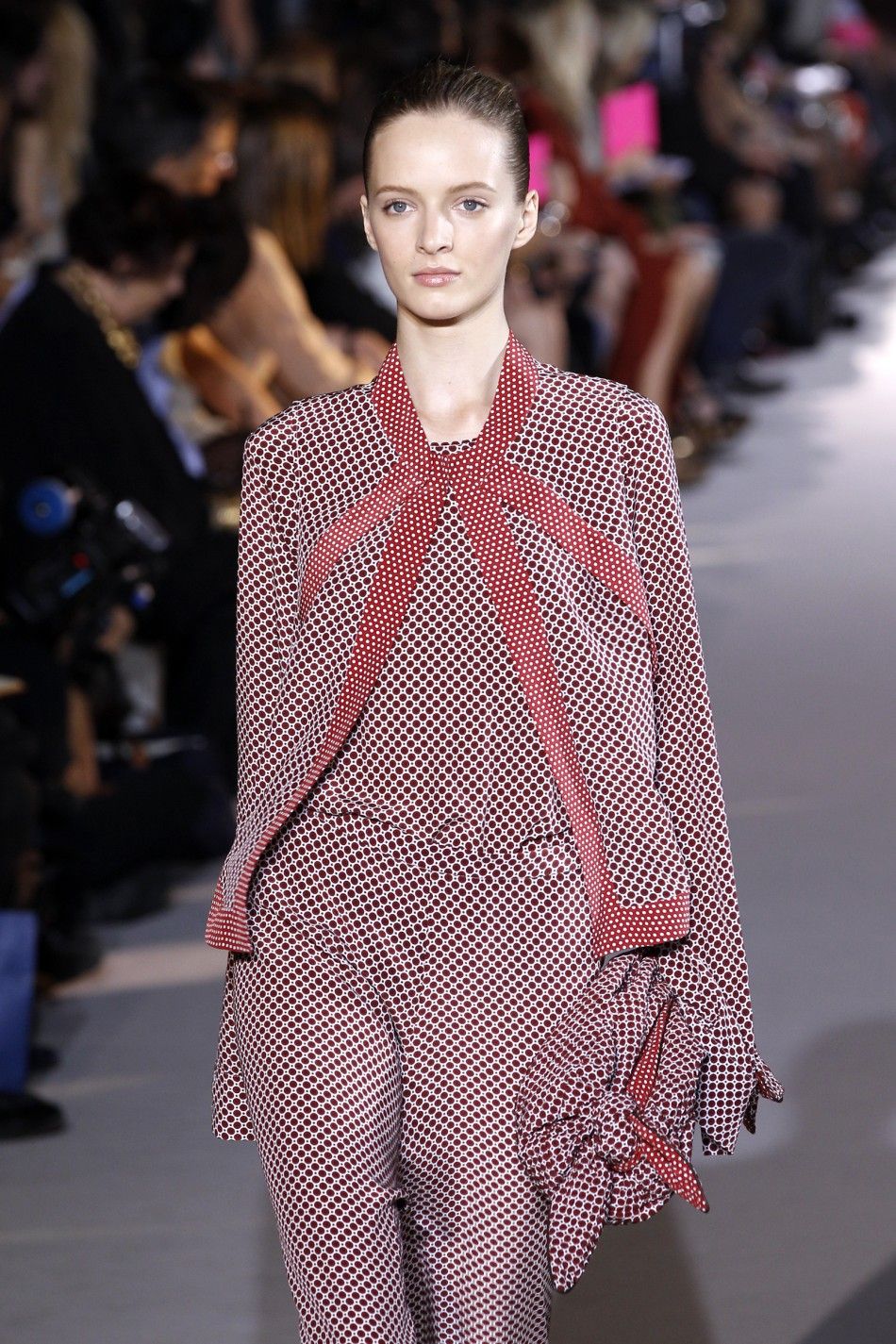 FOLLOW MORE IBT NEWS ON THE BELOW CHANNELS