Parents thank fans at makeshift Winehouse shrine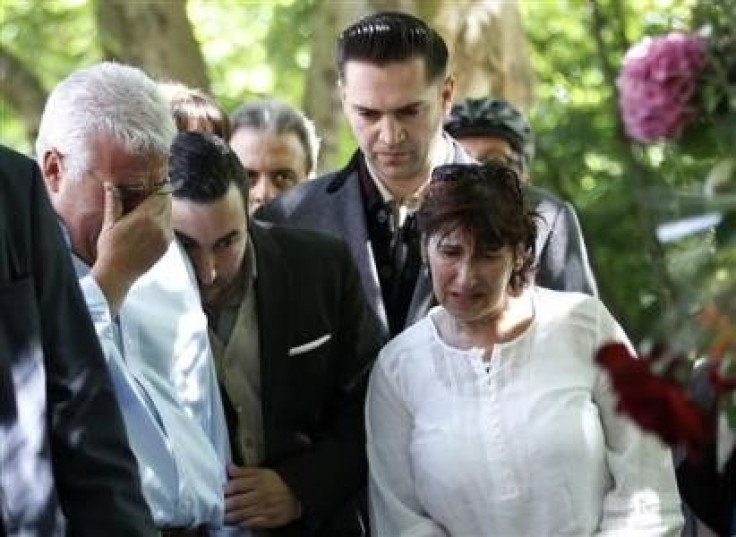 An autopsy on British singer Amy Winehouse, who was found dead at the weekend, will be carried out Monday, police said, as her parents thanked well-wishers at a makeshift shrine outside the 27-year-old's north London home.
As record industry executives reported a surge in sales of the singer's music and speculation swirled about the release of a possible posthumous album, her father Mitch flew in from New York to visit the shrine.
Surrounded by television crews and well-wishers, he read the dozens of condolence messages and walked along banks of teddy bears, flowers -- and the occasional bottle of vodka -- left by fans of the troubled singer.
"Thank you for coming," he told the fans. "It means so much to me and my family."
Police have described the singer's death as "unexplained" but her battle with alcohol and drugs was well-documented, including in one of her best-known songs "Rehab," in which she sang, "They tried to make me go to rehab but I said no, no, no."
An inquest into her death will be opened and adjourned later Monday.
Winehouse slid from being a chirpy teenage singer from a north London Jewish family to someone who could barely walk at her final concert performance in Serbia.
She won critical acclaim after the release of her debut album "Frank" in 2003 before becoming a worldwide phenomenon with the success of "Back to Black."
The Sun newspaper said she was found dead in her bed at around 1500 GMT Saturday, some six hours after she had last phoned her management team.
Winehouse's death has sparked a surge in demand for her music.
British music retailer HMV predicted Monday that she would be number one next week as sales of Back to Black, which won five Grammys, continue to grow.
The company said many people had downloaded the album online but many would want to buy CDs to feel a "more tangible and closer connection with Amy."
"It's something that we tend to see when any great music legend or rock star passes," said HMV spokesman Gennaro Castaldo.
The Daily Telegraph newspaper reported Monday that material recorded before Winehouse's death could be released as a posthumous album, citing sources who said Winehouse had recorded "a lot of material" and that her parents would have the final say on whether a new album is to be released.
Winehouse's spokesman told Reuters there was currently no confirmation of the release of a third album. "I know there's material about, but no one's talked about it," he said.
Her recording company, Island Records, a subsidiary of Universal Music Group had no comment about the possibility of a posthumous album.
Monday morning, Universal Music Group had substituted their homepage at www.umusic.co.uk with a black and white image of the star.
Tributes to Winehouse from celebrities including Russell Brand, Lily Allen and Stephen Fry poured in from Twitter over the weekend.
British singer M.I.A and American rapper Big Boi both released songs dedicated to Winehouse.
M.I.A released a song entitled "27" online, which likely refers to the age at which Winehouse died and the "Forever 27" club of musicians who have passed away at that age, including Jimi Hendrix, Kurt Cobain and Janis Joplin.
Big Boi, who forms part of the duo Outkast, uploaded a remix of Winehouse's hit "Tears Dry On Their Own" to his website, with the message "R.I.P Amy."
© Copyright Thomson Reuters 2023. All rights reserved.