Paris Attacks: Listen to Spotify France's Peace Playlist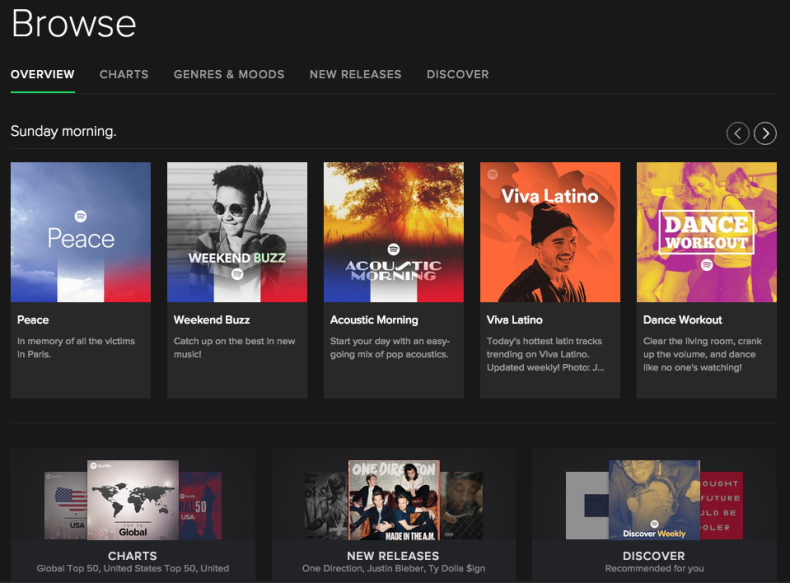 Hours after the smoke began to clear away from the coordinated terrorist attacks in Paris, people on Spotify found an unusual way to grieve: a playlist called Peace, created by Spotify France. The playlist, not to be confused with a separate Spotify-created playlist called Peace, went live Saturday morning and includes iconic anti-war anthems like John Lennon's "Imagine" and Plastic Ono Band's "Give Peace a Chance." But it also features lesser-known tracks like the upbeat reggae of Alpha Blondy's "La Route de la Paix" and the contemplative "Jour de Paix" by French hip-hop group 113.
For most of this weekend, "Peace" sat at the top of Spotify's browse section, a prime piece of real estate on a service where users rely on playlists to power themselves through their day. And while that playlist might seem like an unusual gesture, it resonated with some: It's amassed more than 43,000 followers already.
So far, Spotify is the only streaming music service that has created a playlist as a show of support, though it's not the only gesture made by a large business in wake of the attacks. On Saturday, Amazon changed its home page to include the image of the French flag, along with a single word, "Solidarité."
While the events perpetrated Friday by agents of the Islamic State group took place in several locations across Paris, the night's deadliest attacks took place inside the Bataclan, which was playing host to a sold-out show by the American rock band Eagles of Death Metal. The following day, U2's lead singer, Bono, called the events "an attack on music." So far, music has played a prominent role in public mourning, both in Paris and abroad. On Saturday, a man wheeled a piano out to the front of the Bataclan and played "Imagine" for a crowd of onlookers. At the Metropolitan Opera Saturday, Placido Domingo led the orchestra and chorus in a rendition of France's national anthem, "La Marseillaise," before its scheduled matinee performance of "Tosca."
© Copyright IBTimes 2022. All rights reserved.