Paul George Injury Return: Pacers Star Ready For Playoffs?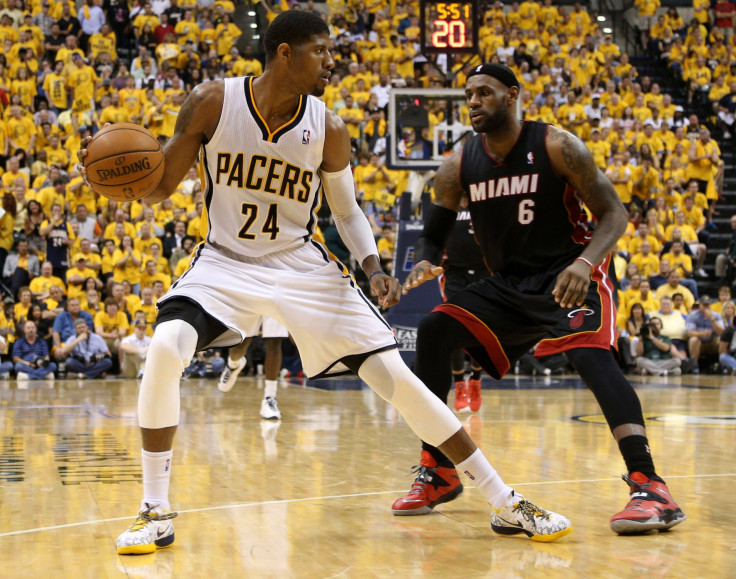 After months of rehab, Indiana Pacers superstar small forward Paul George could make his return to the court in the near future. George said he "felt good" after participating in a full practice last week for the first time since he suffered a gruesome broken leg during a USA Basketball scrimmage in August.
"I just went through my first official practice, I guess, of going up and down and playing full court," George told reporters.
While optimism may be on the rise for George's return, no hard date has been set for his return to the court. Last month, the Pacers and team president Larry Bird broke away from their initial plan of holding George out for the entire season and instead hoped he would play late in the year, while George had previously stated that a mid-March return was possible.
The Pacers medical staff is almost certainly erring on the side of caution to avoid George suffering an injury setback. The Chicago Bulls have had to deal with the difficult injury situation of star point guard Derrick Rose, who has not played over 80 games in a season since 2010-2011.
Meanwhile, the Pacers have had their share of struggles without George. Indiana plummeted to near the bottom of the Eastern Conference with a 15-30 record in late January, but reversed their fortunes in recent weeks. With eight wins in their last games, and the Brooklyn Nets tumbling, the 25-34 Pacers are now the No. 8 seed with 23 games left in the regular season. The No. 7 seed is also within Indiana's grasp, as the Pacers have the same number of wins as the Miami Heat. But Indiana may also need to fend off the Charlotte Bobcats, Boston Celtics, and Detroit Pistons, who are all within two wins of the No. 8 seed.
The Pacers' schedule is somewhat favorable, as the team has three games against the hapless New York Knicks and one matchup with the struggling Orlando Magic. Should George return to action in March, Indiana could be in good position to make a late-season surge, with the Washington Wizards and Memphis Grizzlies as the only teams virtually guaranteed to make the postseason on their April schedule.
Adding George to a hot team could make the Pacers a difficult first-round opponent. Indiana finished the 2013-2014 season with the best record in the East, and have enjoyed postseason success in recent seasons with consecutive appearances in the conference finals.
Before his injury, George was coming off his best pro season with 21.7 points, 6.8 rebounds and 1.9 steals per game, totals that were likely to increase as he entered his fifth year in the league. Pacers head coach Frank Vogel stressed his prolific All-Star has to be more than physically ready to compete.
"Paul is not going to be out there unless he's Paul George," Vogel said on Thursday. "He's eager to get back on the court, but not before he's ready. Once he's mentally cleared to play in a game, he's still got to be ready to (actually) play in a game."
© Copyright IBTimes 2023. All rights reserved.