Paul LePage Racism Update: Maine Governor Blasts Media For 'White Girls' Controversy, Ignoring Drug Issue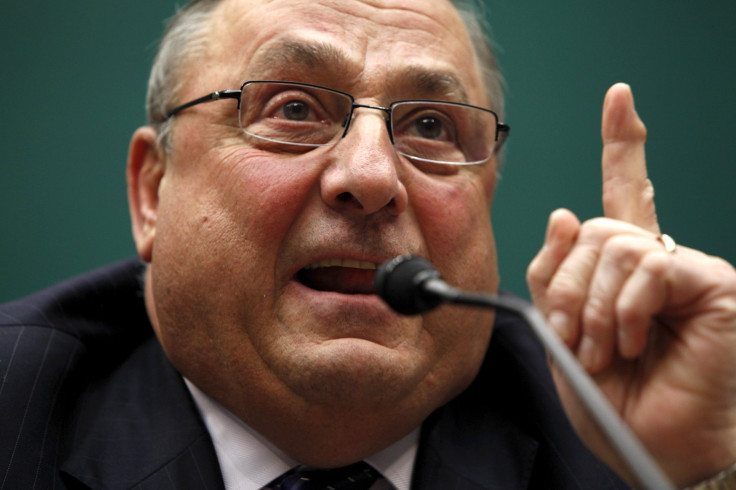 Maine Gov. Paul LePage lambasted media outlets at a press conference Friday morning for latching onto racially charged comments made earlier this week about drug dealers entering the state, fueling the heroin trade and impregnating "white girls." LePage said he had meant to say "Maine women" instead of "white girls" and would not apologize for the remarks.
"I was going impromptu and my brain didn't catch up to my mouth," he said. He added his passion was to rid the state of violence and get dealers off the streets. He told news outlets to "get your heads out of the sand please," and accused them of focusing on the ill-conceived comments rather than making the drug trade a major issue.
"I'm sorry, I do not like you guys. I'm not a polished speaker," he said. "If you wanna make it racist, go ahead and do whatever you want."
LePage made the controversial remarks Wednesday evening during a town hall meeting in Bridgton.
He said these "are guys with the names D-Money, Smoothie, Shifty — these types of guys," the Portland Press Herald reported. "They come from Connecticut and New York. They come up here, they sell their heroin, they go back home.
"Half the time they impregnate a young, white girl before they leave, which is a real sad thing because then we have another issue we have to deal with down the road."
LePage was excoriated by Republicans and Democrats alike for the comments, which many called racist, although his spokesman said Thursday the remarks were taken out of context and not related to race. LePage has previously drawn ire for similarly charged remarks, including at a 2013 event when attendees claimed he said President Barack Obama "hates white people," the Maine Sun Journal reported.
© Copyright IBTimes 2023. All rights reserved.