Paul Pelosi Update: Nancy Pelosi's Husband Makes First Public Appearance Since Attack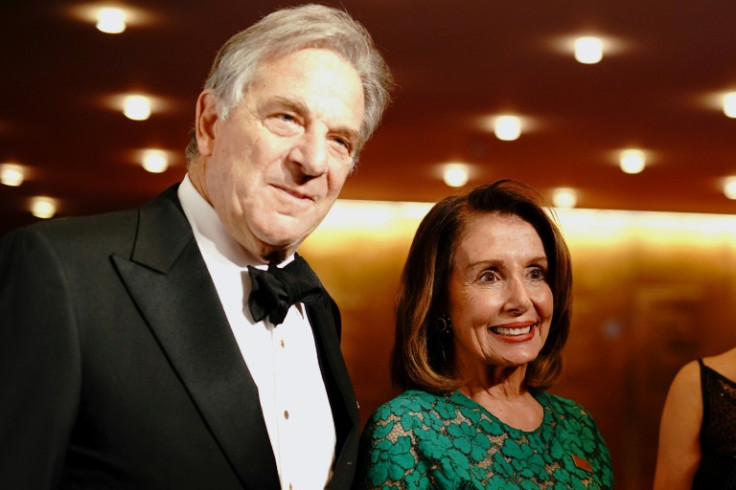 Paul Pelosi, the husband of House Speaker Nancy Pelosi, made his first public appearance on Sunday at the Kennedy Center Honors since he was attacked and hospitalized on Oct. 28 in a home invasion.
The couple received a standing ovation as they sat on a balcony next to Vice President Kamala Harris and second gentlemen Doug Emhoff. President Joe Biden, who was seated nearby alongside first lady Jill Biden, made a fist pump to Paul Pelosi. Nancy and Paul Pelosi clasped hands and raised them together while the audience applauded.
Paul Pelosi was seen wearing a black hat and a glove on his right hand as he is still recovering from the injuries sustained during the break-in of the couple's San Franciso home and subsequent assault. He had surgery to "repair a skull fracture and serious injuries to his right arm and hands," said Nancy Pelosi's spokesman Drew Hammill in a statement.
The suspect arrested for the attack, David Wayne DePape, was indicted on Nov. 9, with the filed charges being the attempted kidnapping of a federal officer or employee and the assault of an immediate family member of a federal official. DePape was reported to have asked where Nancy Pelosi was, his shouts of "where is Nancy" echoing the same chants from the Jan. 6, 2021 attack on the Capitol.
Following the attack, Paul Pelosi was treated at the Zuckerberg San Francisco General Hospital. A Nov. 7 statement explained that he would have a "long recovery process" and included a request for privacy by the family.
It wasn't only Democrats who applauded the couple, the Republicans in the audience also showed support. After the bipartisan show of support for the couple at the Honors, Sen. Mitt Romney, R-Utah, spoke to ITK about how the Senate has, in his opinion, reflected bipartisan support and worked on that basis "for a long time."
"We're becoming a little more polarized as a nation, and that's been reflected in the people that are being elected," said Romney. "So hopefully we can keep the bipartisan effort alive."
Rep. Joyce Beatty, D-Ohio, said that the evening was a "great start" and added that "we're doing a change of the guard, and I would certainly hope that with a new generation of leaders, we'll have a new beginning."
President Biden's presence at the black-tie affair marks the second time a sitting president has made an appearance in recent years.
Former President Donald Trump had avoided the event throughout his term after two honorees in 2017 stated they would not attend the Trump-hosted reception at the White House due to their political beliefs. These two honorees were television writer and producer Norman Lear and dancer Carmen de Lavallade. A statement put out at the time by the White House said that Trump's decision not to attend was to allow artists the opportunity "to celebrate without any political distraction."
© Copyright IBTimes 2023. All rights reserved.
FOLLOW MORE IBT NEWS ON THE BELOW CHANNELS