PayPal Introduces New Web3 Payment Solution That Converts Crypto To USD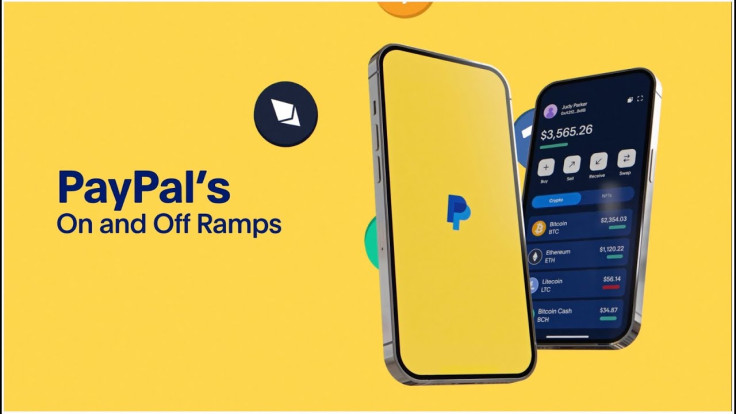 KEY POINTS
PayPal described the new feature as a "fast and seamless payment experience"
The payments giant had previously introduced On Ramps to its U.S. customers
MetaMask introduced an almost similar feature earlier this month
Payments giant PayPal has rolled out a new Web3 payment solution that allows users to convert their crypto assets to the U.S. dollar.
After launching its stablecoin PayPal USD (PYSUD), the company revealed it was expanding its digital asset services by introducing new ways for users to sell their crypto.
Dubbed PayPal On and Off Ramps, the new feature allows users in the U.S. to convert their crypto assets to dollars directly from their wallets into their PayPal balance. The company said it is "another step in increasing access to digital currencies by simplifying how wallets, dApps, and NFT marketplaces."
The feature was designed to help Web3 merchants grow their user base by providing a "fast and seamless payment experience" using the payment giant's "robust security controls and tools for fraud management, chargebacks and disputes."
While PayPal previously introduced On Ramps to allow consumers in the U.S. to directly purchase crypto via their wallets – Ledger or MetaMask, Off Ramps allows users to convert crypto to fiat (USD) from their wallets into their PayPal balance, allowing them to do a wide range of transactions.
"On Ramps to enable U.S. consumers to directly buy crypto with PayPal through integrations with MetaMask and Ledger – with more coming soon. By adding Off Ramps, crypto wallet users in the U.S. can convert their crypto to USD directly from their wallets into their PayPal balance so they can shop, send, save, or transfer to their bank or debit card," PayPal said in a news release.
Off Ramps is now live on MetaMask and is available to wallets, dApps and NFT marketplaces.
PayPal's latest announcement comes days after MetaMask introduced a feature that allows users to cash out crypto assets to fiat currency and send them to a PayPal or bank account.
"MetaMask Portfolio's Sell feature allows you to easily cash out your crypto to fiat currency (USD, EUR, GBP). Combined with the Buy feature, it enables you to have a self-sufficient Web3 experience with fewer intermediaries and faster fiat conversion directly to your destination of choice where available, like your bank account or PayPal balance," the company announced earlier this month.
© Copyright IBTimes 2023. All rights reserved.