Pence Slams China Over Hong Kong Protests; Calls Out NBA, Players Over Silence
Vice President Mike Pence on Thursday slammed China for the Hong Kong protests and accused it of curtailing "rights and liberties" in the former British colony. He also offered support to the protesters.
Taking China to task for its handling of pro-democracy protests rocking Hong Kong for more than four months, Pence also blasted U.S. company Nike and the National Basketball Association (NBA) for toeing China line of "muzzling free speech" in Hong Kong.
In his address at a Washington think tank, the Vice President hit out at China for its treatment of the Muslim community of Uighurs in the Xinjiang region.
Pence alleged China was running a "surveillance state," and flayed its "increasingly provocative" military actions against protesters. Pence said Taiwan's democracy holds a better path for Chinese people.
In the policy speech, Pence touched upon an array of disputes. The timing was significant as it came ahead of talks with Beijing to ease the year-long trade war.
Declaring the support of the United States to the protesters in Hong Kong, Pence said: "We stand with you, we are inspired by you. We urge you to stay on the path of non-violent protest."
At the same time, Pence said the United States does not seek confrontation or favor "de-coupling" from China.
Nike and NBA flayed
Pence also directed his barbs at sports apparel giant Nike and the NBA for their ambivalence and pro-China stand over Hong Kong protests. He said some American corporations are "acquiescing to Chinese coercion and censorship because of corporate greed."
Pence pointed to Nike's decision to remove Houston Rockets merchandise from their stores in China after the Rockets general manager, Daryl Morey, posted a tweet supporting the Hong Kong protesters. Nike Shoes have a big market in China.
Pence was more vehement in attacking the NBA's muted response to the controversy contrary to expected candid NBA standings.
"In siding with the Chinese Communist Party and silencing free speech, the NBA is acting like a wholly-owned subsidiary of that authoritarian regime," Pence said.
Pence alleged that Beijing had been increasing its interventions in Hong Kong with a plan to curtail the rights and liberties of the people guaranteed through a binding international agreement.
According to observers Pence's attack on China is in sharp contrast to President Donald Trump's silence on the matter.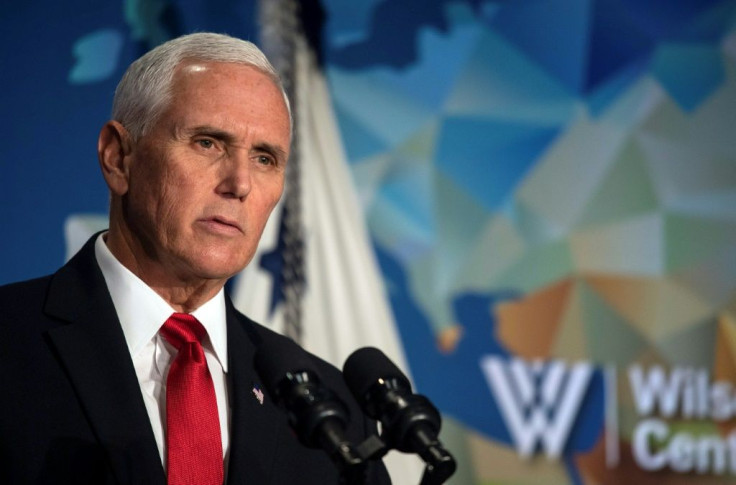 On Hong Kong Trump news has been mostly about Donald Trump twitter posts urging President of China, Xi Jinping to "humanely solve the Hong Kong problem" ducking any outright criticism of China.
Defends trade war with China
Pence also lauded Trump's US-China trade war dominating China news. He said confronting Beijing was inevitable for its unfair economic practices as the Washington political establishment had "enabled them" by overlooking intellectual property thefts and currency manipulation.
"We are not seeking to contain China's development. We seek a level playing field, open markets, fair trade, and respect for our values ... We want a constructive relationship with China's leaders like we have enjoyed for generations with China's people," Pence said.
© Copyright IBTimes 2023. All rights reserved.